Rush Limbaugh Nicknames the President 'Barack Hussein Kardashian'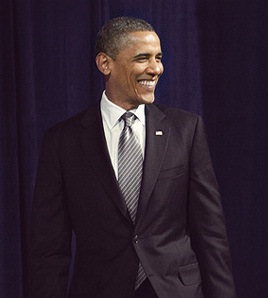 Bill Clinton played the sax on Arsenio. Richard Nixon said, "Sock it to me!" on Laugh-In. Ronald Reagan tried to teach a monkey table manners. For decades now, presidents have taken to the spotlight like nobody's business — but of course, some of these presidents get more heat for these stunts than others. Most recently, Rush Limbaugh said that President Barack Obama is too image-obsessed and has even given the Commander-in-Chief the nickname of "Barack Hussein Kardashian," according to HuffPo.
Obama's supporters might take issue with this moniker. In fact, the Obamas have even joked about their feelings regarding the first family of the E! network. Michelle Obama claimed that her husband doesn't care for the Kardashians or their programming, and President tossed a jab at Kim Kardashian during the White House Press Correspondence Ceremony. But as all archenemies must eventually realize, they're not so different. Here's a checklist to prove that Barack Obama and Kim Kardashian might have more in common than you thought:
Both support health initiative reforms.
Both support same sex marriage.
Both have garnered attacks from PETA — Obama for the swatting of a fly on television, Kim for wearing fur and leather.
Both have done quite a bit in 72 days. By the time of Obama's 72nd day in office as president, he had announced a new strategy for the war in Afghanistan, had laid out a new automotive plan, and had reversed the Bush Administration's activity regarding stem cells. As for Kim, there was that marriage you might have heard about.
Both have made surprise appearances on live NBC comedy series: Obama on Saturday Night Live and Kardashian on the West Coast broadcast of the second live episode of 30 Rock.
Both have passionate feelings about Kanye West.
Could this mean the that the President and his family have a future in reality TV? Owning Up to the Obamas? Malia and Sasha Take D.C.? Bo? Oh the possibilities.
More:
President Obama (Sort Of) Covers 'Call Me Maybe' — VIDEO
Kim Kardashian Takes Over TV, Your Life