Russell Brand Arrested for Smashing Photographer's Phone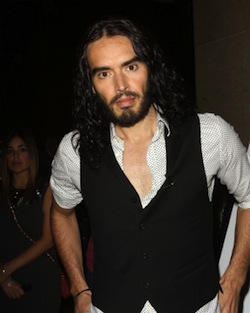 There won't be a manhunt for Russell Brand down in New Orleans. The actor has turned himself in to police just hours after a warrant was issued for his arrest. Brand is accused of snatching a paparazzo's iPhone on Monday night.
According to the photographer, Brand got angry because he was snapping shots of him with his cell phone, so he grabbed the device and threw it. The phone went hurling through the window of a nearby law firm, and later Brand's team contacted the office and offered to pay for the damage.
Brand joked about the incident on Twitter, writing, "Since Steve Jobs died I cannot bear to see anyone use an iPhone irreverently, what I did was a tribute to his memory." However, police didn't find the incident so amusing, and charged the comedian with criminal damage to property. He surrendered to police and was still being held on $5,000 bail early on Thursday evening.
This isn't the first time Brand has gotten into trouble over a tussle with the paparazzi. Two years ago he was arrested for battery after fighting with a paparazzo, but it's hard not to sympathize with Brand on that one. The dude was allegedly trying to take an upskirt photo of Katy Perry, who was Brand's fiancee at the time.
Source: Chicago Tribune, Us