Russell Crowe Saw a UFO and Nobody Believes Him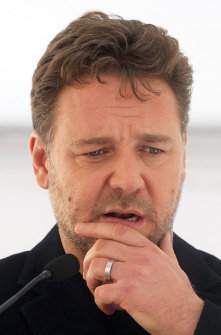 Russell Crowe thought he was in for a quiet night in nature, photographing fruit bats from afar as they flew out of the Sydney Botanical Gardens. You know, a typical weeknight. But the actor captured more than he anticipated when he and a buddy set up a camera outside his office in Woolloomooloo — instead of bats, there's a mysterious, illuminated object traveling across several of his frames. That's right — a UFO.
In a video posted on Crowe's Twitter account, three time-lapse photos show a UFO emitting a red light making its way across the frame. "A friend and I set [the] camera to capture fruit bats rising from Botanic Gardens, this was a big surprise," he tweeted. "Canon 5D, No Flash, can't be a lens flare because it moves, camera is fixed."
RELATED: Russell Crowe's 'Les Mis' Twitter War
It's not actually video of the unidentified flying object — Crowe explains it's actually three time lapse photos taken in 4.5 seconds — but he admits he added music and a little editing to make the video a little more entertaining. "I will grant you at the time the music wasn't playing, also, yes, we have pushed in on the frame," he tweeted after receiving some skeptical feedback, but "this is 3 photos in order, nothing added."
To be fair, Crowe's sighting might not have been an alien vessel, but since he can't tell what it actually was, the "unidentified flying object" descriptor is accurate. Check out Crowe's discovery and weigh in: UFO or BS?
Follow Jean on Twitter @hijean
[PHOTO CREDIT: Damian Dovarganes/AP Photo]
---
From Our Partners:


40 Most Revealing See-Through Red Carpet Looks (Vh1)


15 Stars Share Secrets of their Sex Lives (Celebuzz)