Screenwriter Ruth Prawer Jhabvala Dies: A Tribute to the Literate Heart of Merchant/Ivory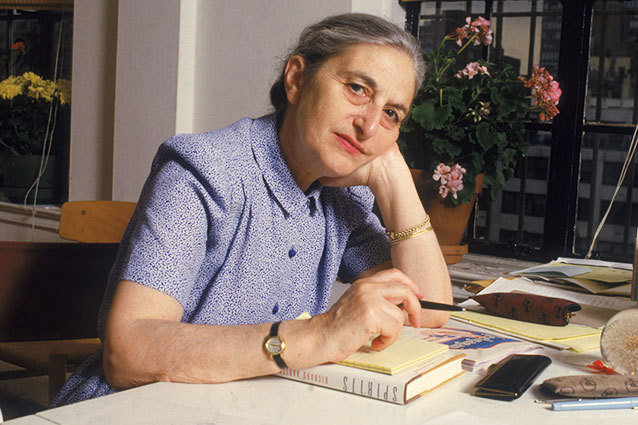 Next to the word "internationalist" should be a picture of Ruth Prawer Jhabvala, the Oscar-winning screenwriter of A Room With a View and Howards End, who died Wednesday at her home in Manhattan of a pulmonary condition. She was 85.
In her last novel, 2004's My Nine Lives, Jhabvala imagined the different courses her life might have taken in London, Delhi, Cologne, and New York if she had made different decisions along the way. But as it stood, her life was a tapestry of experience. Born Ruth Prawer in Cologne, Germany in 1927, she fled the Nazis when she was 12 to settle in London, then moved to India in 1951 after marrying Indian architect Cyrus Jhabvala. "Once a refugee, always a refugee," she told The Guardian in 2005. "I can't ever remember not being alright wherever I was, but you don't give your whole allegiance to a place or want to be entirely identified with the society you're living in." The confluence of diverse cultural backgrounds that made up her worldview perhaps explains the exquisite detail regarding cultural practices and habits that mark her best work on page and screen.
Maggie Smith Has No Interest in Watching 'Downton Abbey'
Jhabvala was a novelist, first and foremost. She published her first book, To Whom She Will in India and Britain in 1955. Retitled Amrita for release in the United States, it concerned the forbidden love of a young Indian woman for a guy who can only be called "Mr. Wrong." It's a theme she would gravitate toward in her E.M. Forster adaptations for producer Ismail Merchant and director James Ivory, like A Room With a View and Howards End, the films for which she won two Best Adapted Screenplay Oscars.
When A Room With a View, starring a young Daniel Day-Lewis playing an unforgettable fop and an even younger Helena Bonham Carter as his wife to be, hit theaters in 1985, she had already been working for Merchant/Ivory productions for 20 years. Their early efforts, like 1965's Shakespeare Wallah, concerned people chafing at societal constraints, or left behind by changing social mores, in an India rapidly evolving. Transitions and transformations were central to their work, as hinted at by the titles of films like Bombie Talkie and Jane Austin in Manhattan. Most of Jhabvala's screenplays share the literary ambition of her novels — the slight undercurrent of satire, the finely-tuned depictions of even more finely-tuned characters. She'd win the Man Booker Prize, the highest literary honor in Britain, for her novel Heat and Dust in 1975.
'Are You Being Served?' Star Frank Thornton Dies: Why He'll Always Be Capt. Peacock
So it must have come as a surprise to her that her later, most successful films with Merchant/Ivory often came under attack as being "a brand." A Room With a View, Howards End, and The Remains of the Day all featured lush settings, frilly costumes, coteries of theater-bred thesps like Maggie Smith, Judi Dench, Anthony Hopkins, and Emma Thompson, and a deep concern for the perils and privileges of the upper class. To many, they were like glorified Masterpiece Theater productions. But in reality, they dealt with issues of class, sexuality, and ethnicity in subtle, thought-provoking ways. It's possible that many critics at the time took their tasteful, Quality-with-a-capital-Q approach for granted, and thumbed their noses at them for being so resolutely anti-hip, and dialogue-focused.
"It is a strange marriage we have at Merchant Ivory," Ismail Merchant told The Times of London before his death in 2005. "I am an Indian Muslim, Ruth is a German Jew, and Jim is a Protestant American. Someone once described us as a three-headed god. Maybe they should have called us a three-headed monster!"
That three-headed monster would have been nothing without Jhabvala, its fiercely beating heart.
[Photo Credit: Bernard Gotfryd/Getty Images]
---
From Our Partners:


40 Most Revealing See-Through Red Carpet Looks (Vh1)


33 Child Stars: Where Are They Now? (Celebuzz)