Ryan Gosling Blogs About Animal Rights: The 5 Most Aww-Worthy Quotes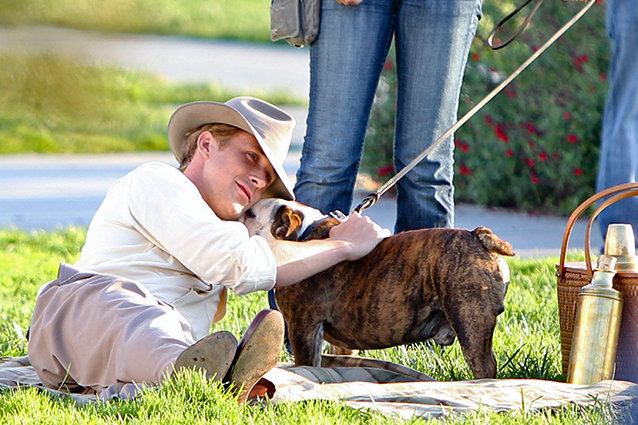 Further proving that he is indeed the perfect man, Ryan Gosling took to Huffington Post Canada to blog about animal rights. He cares about farm animals, you guys! He wants to make sure all the cows, pigs, and chickens are treated well.
Gosling explains the new regulations Canada's National Farm Animal Care Council put in place to improve living conditions for mother pigs, who are kept in small crates for months at a time. Along with educating readers on the Canadian farm industry, Gosling says some pretty adorable things that show just how passionate he is about this cause. Check out the five cutest quotes from his post, then enjoy thinking about Gosling lovingly feeding his dog some apples.
 1. "I take my beloved dog George with me almost everywhere I go. Once, George even shared the stage with me on Late Night with Jimmy Fallon."
 2. "Like me, countless Canadians share their homes and lives with pets they consider to be part of the family."
3. "We know that they have individual personalities and quirks (George loves apples, for example) and that they feel both physical and mental pain."
4. "So of course these animals also deserve our care and attention. That's why I was so heartened to learn that Canada is taking steps toward improving the treatment of animals in the food supply."
 5. "I applaud NFACC for working to improve life for Canada's pigs, and I join Farm Sanctuary and Humane Society International in asking that it close this dangerous loophole by prohibiting the pork industry from confining pigs for weeks at a time – something I would never dream of doing to George, and that no compassionate Canadian would ever do to any animal."
Swoon. His activism only makes him sexier — if that's even possible.
Follow Mary Oates on Twitter @mary_oates | Follow Hollywood.com on Twitter @hollywood_com
More:
Ryan Gosling Makes Boring Human Behavior Adorable
The Best Ryan Gosling Meme Ever
Is Ryan Gosling Outshined in 'Only God Forgives' Trailer?
---
From Our Partners


Stars Pose Naked for 'Allure' (Celebuzz)


20 Grisliest TV Deaths of 2012-2013 (Vulture)