Ryan Lochte Pees in the Pool and Other Weird Things Olympians Do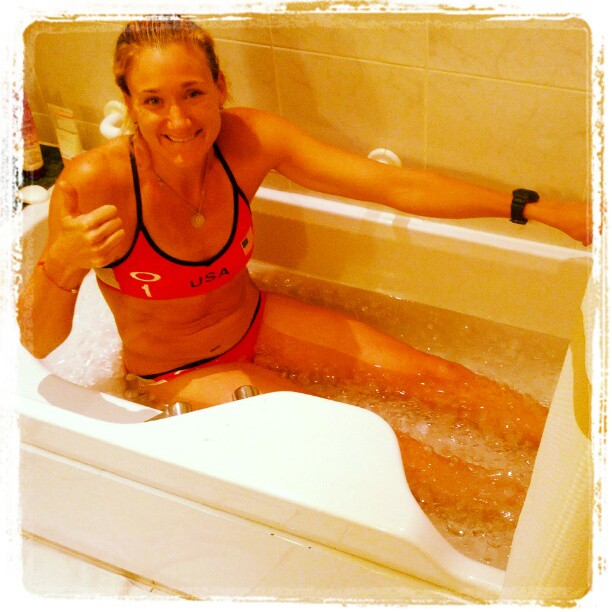 Olympians. They're brave. Inspiring. Unstoppable forces of sheer human will. But as gallant and heroic as these testaments to conquering your dreams might be, they're still, quite often, just as weird and batty as the rest of us. Come on — you can't be that talented without a few screws loose somewhere.
Focusing on the triumphs and achievements of the 2012 Olympian victors is all well and good, but sometimes it's more fun to look at the quirks that make them seem a bit more human. We've decided to take a look at some of this year's champs' idiosyncrasies. But before you start with the mockery, just remember: These odd habits might just be what helped some of these men and women snag those coveted medals. So, hold your judgments.
Ryan Lochte's Micturit-ual
2012's breakout star in the realm of swimming is Ryan Lochte. He is an athlete who owes his gold and silver medals to poise, hard work, and the zen-like willingness to go to the bathroom just about anywhere. Lochte recently admitted to urinating in the Olympic pools prior to his races. The 28-year-old swimmer told Ryan Seacrest (via Us Weekly, "I think there's just something about getting into chlorine water that you just automatically go… I sure did in warm-up."
Marlen Esparza Is Ready for Her Close-Up
You wouldn't think that "How do I look?" would be one of the most pressing questions for an Olympic boxer right before he or she heads out into the ring. But 23-year-old Marlen Esparza, America's first female boxing champion, told People that she always applies makeup and perfume before her fights. "If you look good, you feel good," she said. "And if you feel good, you fight good."
Kerri Walsh-Jennings' Trending Ice Bath
The act of immersing yourself in a soothing ice bath just after an arduous game of beach volleyball isn't so weird… but don't people usually like to take their baths in private? America's own Kerri Walsh-Jennings, beach volleyball quarterfinals victor, took to Twitter after her last game to share a picture of herself in the throes of a pleasant ice bath. We guess she's so used to her adoring fans watching her every move that she just feels weird without them.
Usain Bolt's Super-sized Diet
Any runner, track coach, health teacher, or reasonable human being would probably advise against eating fast food prior to a big race. But logic be damned: Usain Bolt, one of the fastest men on the planet, admitted to enjoying a meal of McDonald's prior to taking the gold and breaking his own world record in the 100 meter sprint. "Don't judge me," was Bolt's response (according to Yahoo Sports).
Michael Phelps' Golden Party
It feels good to win an Olympic gold medal (I'm assuming), and it feels good to go out partying. So why not take a page out of Michael Phelps' book and mix the two pleasures? TMZ reports that the famed swimming champ followed his 2012 Olympic turn by heading out to the clubs of Soho, London, with his three new gold medals in tow. Wonder if that got him any free drinks?
[Photo Credit: Kerri Walsh-Jennings]
More:
Olympics Round-Up: It's So Hard to Say Goodbye to Michael Phelps
Unhappy Hour: 9 Ways The Olympics Gave Us Reason to Drink
Olympics Round-Up: Teenagers, Twins, and One Undefeated Team