Sam Worthington Allegedly Pepper Sprayed, Cuffed for Fighting — Report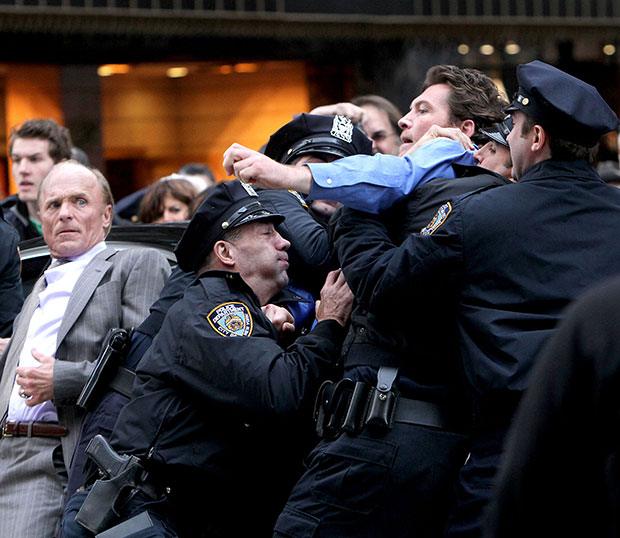 Update: TMZ reports that the charges against Worthington were dismissed Monday morning in court because the complaining witness failed to show up.
Earlier: It sounds like Sam Worthington needs to learn how to control his temper. The 36-year-old Avatar star was allegedly pepper sprayed and then arrested for supposedly getting in a fight in Atlanta on Saturday, TMZ reports.
What Worthington probably thought was going to be a pleasant evening quickly landed him in cuffs. According to TMZ, the police report says the actor allegedly got into a fight at a restaurant called Vortex when he failed to provide the necessary ID needed to enter the establishment. The men at the the door then refused to let him in because they thought Worthington was too inebriated. This apparently didn't sit too well with Worthington, as it is alleged that the actor shoved the doorman twice before the bouncer pepper sprayed him and placed him in handcuffs until the police arrived. When the police did arrive at the scene, Worthington was reportedly charged with disorderly conduct.
Worthington is currently filming his movie Ten in Atlanta with Arnold Schwarzenegger. There is no word yet if this little rumble caused a delay in production.
The above photo is not an actual depiction of Worthington's Saturday arrest. It's a shot of him on set shooting his movie, Man on a Ledge.
Follow Lindsey on Twitter @LDiMat.
[Photo Credit: WENN]
More:
Michael Fassbender as James Bond: The Trailer!
Hollywood's Leading Men Worthy of the Gods
'Wrath of the Titans' Trailer: Sam Worthington Plays Second String to Monsters

Katy Perry Moves Forward at Barack Obama Rally in Wisconsin (PHOTOS)
(Celebuzz)