Samuel L. Jackson Says: 'Wake the F**k Up!'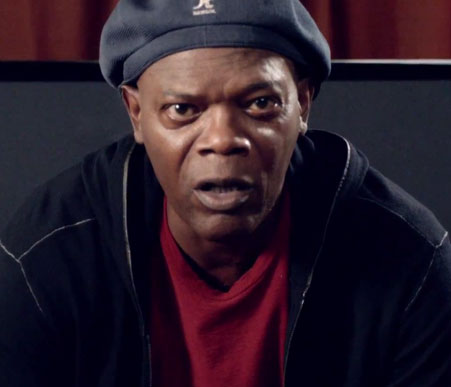 Last summer, the legendary bad-ass Samuel L. Jackson took his talents to the realm of "children's" literature by narrating the audio version of Adam Mansbach's profanity-ridden lullaby, Go The F**k To Sleep. The book, which was styled after Margaret Wise Brown's classic bedtime tale Goodnight Moon and described as a "children's book for adults," chronicles the challenge parents and babysitters alike face when their kids just won't go the f**k to sleep. (Which is literally the worst thing. Ever.) And now that election season is upon us, Jackson has made an about face on his message — he wants Americans to Wake the F–k Up!
His new video (NSFW…but do we really need to warn you?) tells the story of a little girl who is frustrated when her family — who was so proactive a mere four years ago in the presidential election — doesn't seem to care about the upcoming showdown between Obama and Romney.
While his video is very clearly pro-Obama (arguably more anti-Romney than pro-Obama), it reminds us that regardless of whether you will be voting Democrat or Republican this November, everyone needs to wake the f–k up and know the issues. We may argue on every other facet of politics, but that's one thing we can agree upon.
[Photo Credit: WTFU2012.com]
More:
Attention 'Harry Potter' Fans: J.K. Rowling May Have More Books Up Her (Wizard) Sleeve
8 Things More Offensive Than Victoria's Secret's Sexy Little Geisha
Johnny Lewis, 'SOA' Star, Dies After Suspected Homicide — REPORT