Home
Celebrities
Even Sandra Bullock's Son Thinks She Should Get with George Clooney
Even Sandra Bullock's Son Thinks She Should Get with George Clooney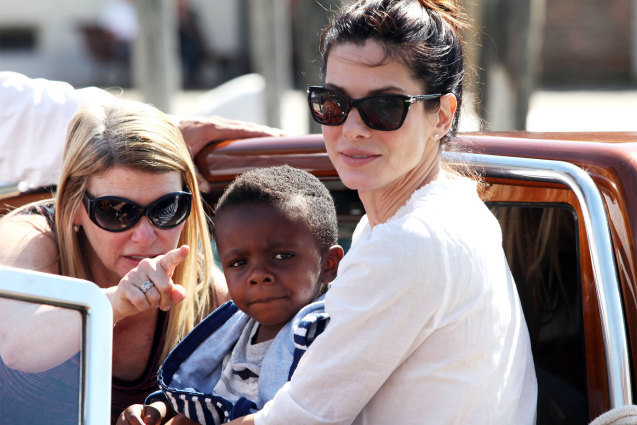 FameFlynet
Thanks to the Gravity press tour, Sandra Bullock and George Clooney have been spending a lot of time together recently. And after seeing these two beautiful people side by side, sharing beautiful smiles and bouts of beautiful laughter, the cogs in our minds got to turning — these two, it's clear, would be perfect for one another. As if we needed any more proof (which we indubitably didn't), Bullock has now revealed that her 3-year-old son, Louis, likes Clooney a whole heck of a lot. 
"My son thinks he's a very cool dude. If there was a choice between me and George and [director] Alfonso [Cuarón], my son will leave to go with George and the guys," People reports Bullock as saying at a press conference at the Toronto International Film Festival. She continues, "He's a boys' boy – he has to go and talk to the men."
"He asked, 'Where's George and Rande [Gerber]?' I'm like, 'What? I don't know.' He goes, 'I need them.' We went to meet with them and they had man time. I stood off to the side and waited for them to finish and then I was allowed to take him back," Bullock says. 
Bullock explains her son's attachment to everyone's favorite leading man by saying that she and Clooney have been friends for decades (yet another reason these two should give it the old college try). "George and I have known each other for over 20 years. We've known each other since we got out of college and we have the same group of friends," she says. 
Ugh, it's just too perfect. Give the boy a never-ending supply of Clooney man time, Sandy! Do it for the boy's sake!
 Follow @hollywood_com
| Follow @abbeystone
---
From Our Partners:


A Complete History Of Twerking (1993-2013) (Vh1)


15 Stars Share Secrets of their Sex Lives (Celebuzz)