Sarah Michelle Gellar and Freddie Prince Jr. Expecting a Baby Boy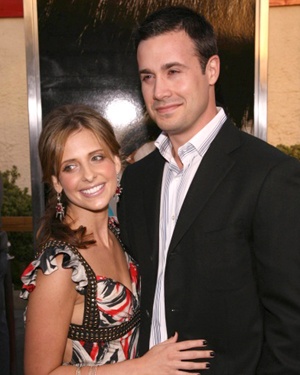 As many of you probably already know, Sarah Michelle Gellar and Freddie Prinze, Jr. are gearing up to welcome their second child into the family. And even though the expected due date is still a little ways away, the happy couple has been kind enough to share the gender of their expected new bundle of joy: They are going to have a bouncing baby boy!
Gellar, 35 and Prinze, 36 — who already share a 2-year-old daughter, Charlotte Grace — are completely excited about the news. "They are thrilled that Charlotte will have a little brother," a source close to the couple tells People magazine. "They love their little girl more than anything in the world and know that love will only multiply."
And as the couple has yet to decide what do name their new baby, we here at Hollywood.com have thought of a few suggestions. Why not look to their past works for some inspiration?
Angel — Don't let the fact that his mother used to be a vampire slayer put you off to this idea. In Buffy the Vampire Slayer, Angel was a great protector and pretty easy on the eyes, as well.
Ray — Dedicated Freddie Prinze Jr. fans will remember that this was the actor's name in the popular '90s horror movie I Know What You Did Last Summer. Sure, it's not the most uplifting connection ever, but he was definitely the best guy in the film and he managed to survive (sorry for the spoilers).
Siler — Yes Siler, as in Zack Siler from She's All That. Sure, we could've gone with Zack, but Siler is just such a cooler name for a kid.
Freddie Prinze III — Anything that is a reminder of his father is alright by us.
Sebastian — To name their kid anything but this name would be intentionally cruel.
More:
Sarah Michelle Gellar Expecting Baby No. 2
Sarah Michelle Gellar: Queen of The CW's Leading Ladies?
Sarah Michelle Gellar is Seeing Double in New Ringer Poster