Sarah Palin Is Writing a Book Because You're Celebrating Christmas Wrong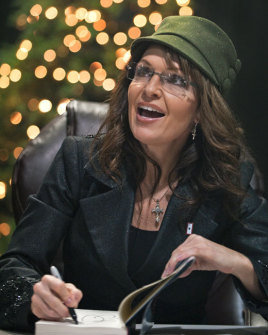 Whatever your beliefs, and however it is you wish to express them, you can count on one certainty: you're doing it all wrong. Come the holiday season especially, you can be sure to find at least one militant community who'll admonish you for your outdated ignorance, your free-wheelin' sacrilege, or your inability to pick a side. The latest drone in the War on Christmas is Sarah Palin, who is writing a new book devoted to combatting the political correctness movement.
RELATED: E.L. James' New Book Is a Blank Journal with Writing Tips (No, Really)
E! reports that the former VP candidate is penning A Happy Holiday IS a Merry Christmas, which she describes as an illustration of "the reasons why the celebration of Jesus Christ's nativity is the centerpiece of [her] faith." In light of the pandemic atrocity that is the phrase "Happy Holidays" piercing the souls of people who celebrate Christmas (a movement that grew in the face of the pandemic atrocity that is the phrase "Merry Christmas" piercing the souls of people who celebrate Chanukah), Palin sets forth a book to take back the upper hand in the name of the proud stocking stuffers.
"Amidst the fragility of this politically correct era, it is imperative that we stand up for our beliefs before the element of faith in a glorious and traditional holiday like Christmas is marginalized and ignored," Palin says.
RELATED: Mindy Kaling Writing New Book About 'Highs and Lows' of Her Career
All very timely news in this yuletide month of March, Palin describes her new venture as a "fun, festive, thought-provoking book, which will encourage all to see what is possible when we unite in defense of our faith and ignore the politically correct Scrooges who would rather take Christ out of Christmas." And then, we'll all be overtaken by a new sense of meaning, reveling in the glories of the true holiday spirit … until Al Franken writes a book about how the Bible is a fake and we're back to living in hedonistic sin. Happy St. Patrick's Day, everybody!
Follow Michael Arbeiter on Twitter @MichaelArbeiter
[Photo Credit: Paul J. Richards/Getty Images]
---
You Might Also Like:


Topanga's Revealing Lingerie Shoot: Hello '90s!


Stars Who Have Lost Roles For Being Too Hot (Celebuzz)