Sarah Palin, Michael Moore & More Celebs Tweet About ObamaCare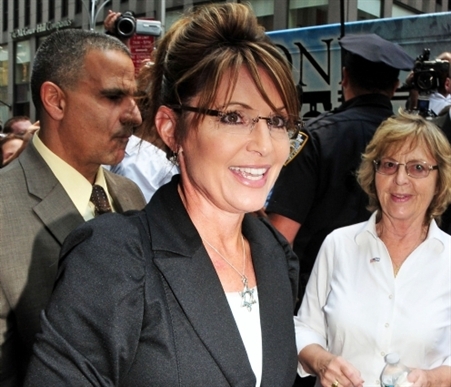 Today was a big day for many Americans because the Supreme Court announced that it has decided to uphold President Obama's health care overhaul, requiring most Americans to obtain health insurance starting in 2014.
This is a huge change in policy that Americans will be forced to deal with and, as you can imagine, some are more happy about it than others. While some tend to use humor as a defense mechanism, others cope in more…flavorful way….especially on Twitter.
Check out the array of tweets from several celebs and political figures to see where they stand on the matter.
Leading Up To the Decision (because these were just too great not to include):
Bill Maher: "#Obamacare?: If u have an STD or a sick kid I'd got to doctor now, cuz after Supremes rule this week its nothin' but freedom." @billmaher
Andy Borowitz: "Tomorrow, nine people who get free government healthcare will let us know what the rest of us get." @BorowitzReport
After the Decision:
Michael Moore: "The right wing has just had their worst smackdown since the day O was elected. The path of history continues to head toward univ health care." @MMFlint
Raising Hope star Martha Plimpton: "YES. Rationality wins the day, finally! ?#HealthJustice? ?#SCOTUS? ?#ACAStays" @MarthaPlimpton
Sarah Palin: "Obama lied to the American people. Again. He said it wasn't a tax. Obama lies; freedom dies." @SarahPalinUSA
Dave Rubin: "Only in America would so many overweight, diabetic people with heart disease be upset that they're gonna have healthcare." @RubinReport
Philip DeFranco: "To all of you saying you're going to move to Canada bc ?#Obamacare? was upheld….um..they have..universal health..um…actually nvm." @PhillyD
Rick Reilly: "This is weird: CNN got its Obamacare Supreme Court story from Rob Lowe." @ReillyRick
Michele Bachmann: "I'm disappointed ?#SCOTUS? thinks gov't knows better than people. I won't stop fighting ?#Obamacare? until is full repeal. RT if you're with me." @TeamBachmann
Wanda Sykes: "Drama at CNN. I would love to be a fly on Wolf Blizter's beard. ?#SCOTUS." @iamwandasykes
Andy Borowitz: "BREAKING ?#SCOTUS? NEWS: Scalia says the government should cover only two ?#healthcare? procedures, transvaginal ultrasounds & exorcisms." @BorowitzReport
Rickey Smiley: "Healthcare bill has been upheld by the supreme court WOW." @RickeySmiley
Willard Mitt Romney: "I am outraged that the Supreme Court agrees with my past statements that the Affordable Care Act is constitutional. ?#Obamacare" @MITTROMNEY
And a great response to that would have to be this tweet….
Andy Borowitz: "Romney: 'Obamacare was a bad thing even back when it was Romneycare.'" @BorowitzReport
More:
Lady Gaga Debuts 'Princess Die': Her Darkest Song Ever? — VIDEO
Anna Paquin & Stephen Moyer Are Expecting Twins — Report
Celebrity Summer Styles: Hot Hollywood Looks To Keep You Cool