Why Scarlett Johansson's New Girl Band Is a Big Deal
We are in the Beyoncé era. A woman is officially the most beloved person in music (if you disagree, go ahead and try to get a ticket to one of her Mrs. Carter Tour shows, and let me know how many buckets of tears you cried when you're done), so in a way she's right: Girls run the world. Well, girls can run the world, but if we trot away from Beyoncé's solo excellence and over to the realm of bands, pop groups, and ensembles, it's a man's world. That's why, as skeptical as we are about Scarlett Johansson's new girl band venture, it's exactly what the music world needs. 
RELATED: Who ScarJo Almost Played in 'Les Mis'
Wednesday, ScarJo announced that she's returned to music with her band The One and Only Singles. "We're kind of doing a Go-Gos thing," she told Michael Strahan and Kelly Ripa on Live! With Kelly and Michael, as Noisey first reported. For anyone who took the time to listen to Johansson's middling 2008 album of Tom Waits covers (and one original song) Where I Lay My Head — which had most critics scratching their heads, as only a few sang muddled, ambiguous praises — this news is rather middling as well. But there is one very good thing about ScarJo's venture: chatter. 
A great, majorly successful girl band is something the music industry is largely missing. Hell, even a great indie or marginally successful girl band is far more difficult to find than a million beloved bands comprised of male musicians (and while Brittany Howard's frontwoman role in the Alabama Shakes is nothing short of kick ass, the Shakes is a band that's mostly men). This defecit is something even the broad strokes judges on American Idol and The X Factor can see: both Nicki Minaj and Simon Cowell have professed that there's a great big gap in the market just waiting for the right girl group to step in and reap the benefits. And they're right. 
For some reason, unlike the Brits who latch onto girl groups quite easily and follow them quite ardently (lucky you, Girls Aloud and more recently, The Saturdays) Americans haven't elevated an all-girl group to star status since the fall of Destiny's Child. It's time.
RELATED: Fifth Harmony Record Deal: Are Girl Groups Back?
Cowell's pet project Fifth Harmony is certainly doing its best to be women's answer to One Direction, covering Frank Ocean's "Thinkin' Bout You" with as much sacharrine pizzazz as possible to drum up some publicity on Wednesday, but they haven't quite bridged the gap.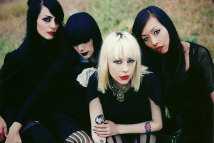 In the world of critically beloved, but lesser-known music, Los Angeles-based Dum Dum Girls impressed critics across the board with their EP End of Daze, even receiving the "Best New Music" rating from Pitchfork. And while their critical success in encouraging, letting us dare to hope that this is beginning of something much bigger, one fantastic EP isn't the thing that will push the potential movement into hyperdrive.
Johnasson's new venture, however, could certainly be the third integral piece to this puzzle. While Fifth Harmony works on the younger, Beiber-loving set and Dum Dum Girls work on the more discerning music-lover, Johansson puts a famous face on the idea of the "girl group," giving it far more lift than those folks the average music fan might see as nameless faces. 
Of course, while our hope is that Johansson's Go-Gos-inspired band is great, there's always the chance The One and Only Singles will make us hide our faces in shame for having dreamed even the tiniest dream that they could be decent. But, even without an album by which to judge the group, a famous face throwing her name into the ring in the quest to bring about the return of the girl band is an element that certain can't hurt. 
Perhaps we Americans are secretly, inherently a sexist expanse of music-listeners who can't get into a group unless there's a man somewhere in there, holding down the fort, but I'd like to think we're not that hopeless. 
Follow Kelsea on Twitter @KelseaStahler
[Photo Credit: John Shearer/WireImage; Sub Pop]
---
From Our Partners:


25 Most Scandalous Celeb Twitpics (Vh1)


33 Child Stars: Where Are They Now? (Celebuzz)