Scarlett Johansson Sues French Publisher Over Romance Novel Character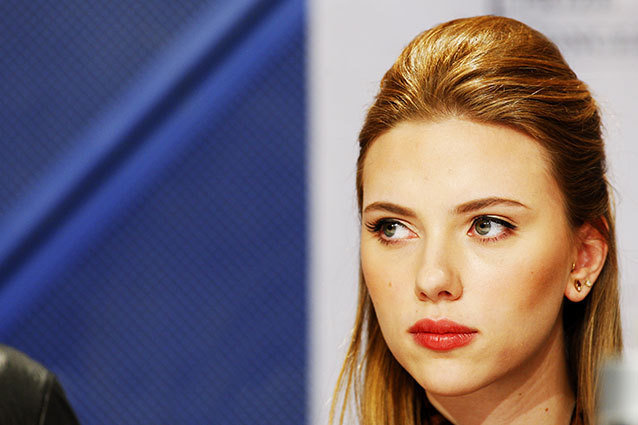 Ooh la la! It seems that Scarlett Johansson is the subject of a French romance novel, and she's not happy about it. The Lost in Translation actress is suing publisher JC Lattès over the use of her name in Grégoire Delacourt's latest book, La première chose qu'on regarde (The First Thing We Look At). 
In the novel, a mechanic in Northern France falls in love with a beautiful woman whom he believes to be Scarlett Johansson. He later discovers, however, that she is not the Hollywood starlet but rather a doppelgänger named Jeanine Foucamprez. 
According to French radio station RTL, the real Scarlett Johansson has filed a lawsuit against the book's publisher over "violation and fraudulent exploitation of her personality rights." But is it grounds for legal action if the character is not actually Johansson but simply someone who bears a striking resemblance her? La premiere chose qu'on regarde has topped the bestseller lists in France since its March publication, so news of this case sent shockwaves through the French public. Many took to the Internet, tweeting things like "It is FORBIDDEN to LOOK LIKE Scarlett Johansson or vice versa?," "Another American who understands literature!" and "Pathetic!"
The author himself is similarly dismayed. In an interview with French newspaper Le Figaro, Delacourt declared that he was "stunned by Scarlett Johansson's reaction" and that his character "is not Scarlett Johansson, it is Jeanine Foucamprez!" He went on to note several instances in the book in which he compares characters' looks to other celebrities like Ryan Gosling and Gene Hackman. Furthermore, Delacourt stated that all comparisons were a sort of "homage" to the actress, whom he sees as an embodiment of female beauty. Finally, at the end of the interview, the best-selling author expressed his sadness: "I rather dreamed that she would send me flowers because I made a declaration of love to her." It looks like that won't be happening anytime soon. 
Delacourt has made a name for himself in the world of French fiction. His last book, La list de mes envies (The List of My Desires) will be adapted into a film this year. We think it's safe to say that La premiere chose qu'on regard will not be getting the Hollywood treatment. It seems that the most obvious choice for the female lead is not a fan of the project.
Follow Caroline on Twitter @carolinesb | Follow Hollywood.com on Twitter @Hollywood_com
More:
Benicio Del Toro Hints Scarlett Johansson Elevator Romp Took Place
Why Scarlett Johansson's New Girl Band Is A Big Deal
Woody Allen Overwhelmed By Scarlett Johansson's Sexuality 
---
From Our Partners


Stars Pose Naked for 'Allure' (Celebuzz)


Which Game of Thrones Actor Looks Least Like His Character? (Vulture)