Scotty McCreery Juggles Fame and College, Weighs in on 'Idol' Judges Spat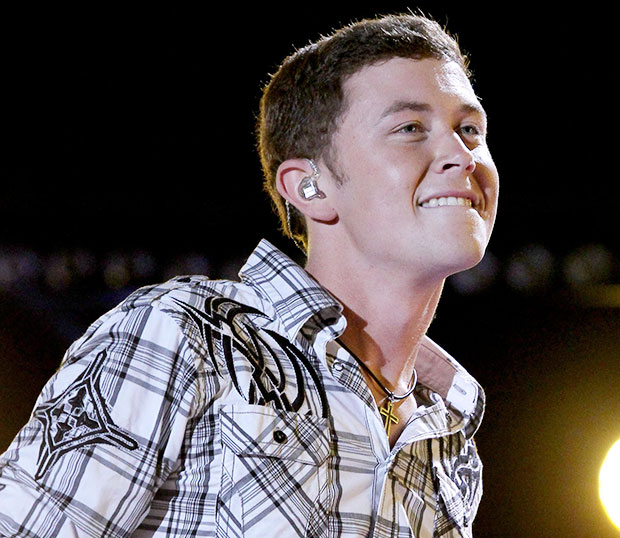 It's been almost 17 months since country star Scotty McCreery was named champion of American Idol's tenth season. Since then, the 19-year-old country singer has released an album, Clear as Day, gone on tour with his American Idol alums and Brad Paisley, and been mocked on Saturday Night Live. Now, McCreery is a college freshman and just finished up his second studio album, Christmas with Scotty McCreery, which goes on sale Tuesday. It's safe to say McCreery has had a busy year and a half.
McCreery did find time in his schedule, however, to talk to Hollywood.com about his whirlwind year. First order of business, is why McCreery chose a holiday album for his second go-around in the studio. "I kind of got lucky, I know a lot of country artists have to wait many years into their careers before they get to release a Christmas album," McCreery tells Hollywood.com. "For me, it's been about a year since I released the first album, and Christmas is definitely by far my favorite holiday. It just kind of felt right. Luckily, I had my label that's supporting me. We got it done pretty quickly, and I can't wait for it to come out."
While McCreery's Christmas album features traditional holiday songs like "Jingle Bells," "Let It Snow," "Winter Wonderland," and "First Noel," it is also going to include two original songs called "Christmas in Heaven" and "Christmas Is Coming Around Again" — and "Christmas in Heaven" sounds like it's going to be the standout track of the album. "It's got a great message," says McCreery. "For me, it's about my grandfather, who is passed on now. I think anybody can relate to this song. It's about how you miss them here this Christmas, but you wonder what it's like up there in heaven for them. Is there snow on the streets of gold? It really paints a nice picture in your head, and makes you think when you hear it."
Country music lovers will be relieved to hear that following his Christmas album, McCreery plans to stick to his country roots and forgo dabbling in other genres. "My take on that is if it happens naturally, that's a great thing," he says. "But I'm never going to go into a studio trying to do something that's not country. But if you have that huge hit song that makes top 40 radio, that would be incredible." And he still has his hopes on collaborating with some huge country stars, especially fellow Idol alums such as Carrie Underwood, Josh Gracin, Kellie Pickler, and Bucky Covington.
But music isn't the only thing that is keeping McCreery busy. He is also navigating his way through his first year at North Carolina State University. "I'm up there Monday and Wednesday," he shares. "I'm squeezing 12 hours into two days. It's really a packed day. I go from 8 AM to 6 PM. I get it all done in two days." Right now, he is majoring in Communications with a focus on Public Relations — but he is considering switching his major. "I might change that to Media just so I can really see the other side of what I'm doing," he says. "I'm personally in the media, but if I can kind of understand the media itself, that would be a cool asset to have."
But if it ever came to choosing between his career and education, McCreery would pick music. "For me, the music has to be my number one priority," he says. "If it ever gets to the point where college is interfering or it's just not working out, then I'll definitely have to stop because music is my job." He's quick to add, "So far it's working great … I want to make it work, so I think [if I am] willing to make some sacrifices, then it will be a great fit."
In order to make his hectic schedule work, McCreery has to stay focused. "If I have downtime on the road, I do papers or homework, or study instead of sitting and watching SportsCenter," he says. "Just got to make good time management."
McCreery, though, doesn't forget about his roots on American Idol — and would jump at the chance to be a judge on the show. "I would consider it because they were so good to me and got me my start," he says. "But I don't know if I'd be the best judge in the world. I think I'm more of the performing type. And at least in this state in the game, I'm still learning about the music industry and being an entertainer. I've only been in it about a year and a half, two years now. I would think they would want somebody more experienced. But if they asked me, I'd definitely consider it."
For Season 12 of Idol, the producers selected two industry mavens, Nicki Minaj and Mariah Carey, to judge. While these women have the "experience" that McCreery talks about, they bring more than just industry knowledge to the show — the only thing that anyone seems to be talking about in regards to the upcoming season of Idol is the ongoing feud between the two new judges. McCreery, for one, believes that Minaj and Carey will settle down eventually. "Anytime you get big personalities in the same room, sometimes it can work, sometimes it might not," he says. "It's going to be a long season. I'm sure they'll get to know each other better and that things will work out."
McCreery recalls that friction between judges  Randy Jackson, Jennifer Lopez, and Steven Tyler wasn't something he had to worry about during his season. "I think they all loved each other," McCreery says. "They are all so unique and had different perspectives that they gelled really well together, from our perspective. They even would come to rehearsals and help us, which the Idol producers told us the judges had never done before. They were very involved and really into the whole deal. That was cool to have."
Speaking with McCreery — who has maintained his boy-next-door charm even as his career has skyrocketed — reminded us that the contestants' stories are the true heart of American Idol. 
Follow Lindsey on Twitter @LDiMat.
[Photo Credit: WENN]
More:
Steven Tyler's Lawyer Sued For Souring 'American Idol' Contract Negotiations
Nicki Minaj Raps Her Support for Mitt Romney' — Is She Alone on the Right Side?
REPORT: Nicki Minaj Joining Mariah Carey on American Idol
From Our Partners:

Miranda Kerr, Alessandra Ambrosio, and Erin Heatherton Talk Seduction, What Makes the Victoria's Secret Angels Swoon — VIDEO
(Celebuzz)

David Beckham Spends $700 on Clothes for Baby Daughter, Harper — EXCLUSIVE
(Celebuzz)