Screw the Tabloids: Adele Has the Classiest Baby Birth in Years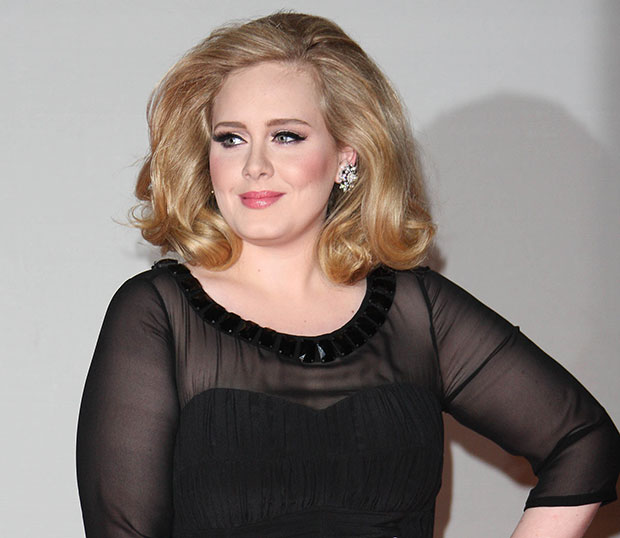 We all know the drill when it comes to coverage of celebrity pregnancy these days. First, there are the rumors backed by grainy paparazzi shots and the speculation that those blousey tops are covering up something underneath. Then comes the choreographed announcement of the baby, its sex, and, if you're really tacky, the publication of the sonogram. And let's not forget all the fashion pictures of this celeb showing off her "baby bump," as if the fetus is some sort of deformity to be jeered over. Then comes the birth, the announcement of the name, and then the even more choreographed reveal of the first pictures of the baby, usually with the mother. Before we can even get to the first article about how the famous mom is going to "lose the baby weight" or how we must look at her "post baby body," we're already sick of this tyke.
What is it going to take to stop this vicious cycle? Adele, of course. The British pop singer (whose album has been on the charts longer than most fetuses spend in the womb) quietly gave birth to a son on Friday. Her representative took days to confirm the news, and it wasn't even reported until at least the following day. It's like Adele had something better to do than issue press releases and pose for pictures. She had to, you know, recover and spend time with her new bundle of joy.
Adele is known to be one of the more private celebrities in the world, so it makes sense that she's handling everything with little regard for how much the public knows about her and the child and when – or maybe it's just that famous British reserve taken to a very logical conclusion. Back in June, Adele announced the pregnancy on her website to little fanfare. There was no interview, no follow-up articles, no nothing. She hasn't posted anything else since June, since she's apparently been busy taking prenatal vitamins and getting rest. I gotta say, there's something to be respected about this. It shows that Adele cares more about her child and her family than she does on capitalizing on the publicity or money that it brings.
This is in sharp contrast to how others have announced their pregnancy and the birth of their babies. Jessica Simpson reportedly shopped around the news of her impending birth to various and assorted tabloids, and when none of them bit she Twittered a silly picture of herself in a Halloween costume noting that she would be a "mummy." Beyoncé introduced the world to her Baby-oncé by showing up at the MTV Video Music Awards rubbing her belly like it's some sort of crystal ball. We can predict the future, and it involves a seven-figure baby picture sale. It seemed as much of a stunt as Lady Gaga showing up in some sort of gold egg, which is really similar because I bet that Beyoncé's eggs are actually made of gold.
Various and assorted announcements are now part of the birthing process as well. Snooki not only revealed the sex of her baby, but his name as well. And that was before he even had ears to respond to that name. Maybe the premature announcement was to keep herself from being humiliated by her choice of name like Uma Thurman with her daughter's ridiculously long moniker. Snooki also posed with Lorenzo, less than a week after he was born, glomming on to a new trend of shoving newborns in front of a flashbulb when they've barely even stopped crying from getting slapped on the ass after birth.
We're not going to be seeing this from Adele, I bet. I doubt we even get any official pictures of her son for quite a bit of time. I have to applaud the mother for this. She could be rolling in the dough for a few quick snaps, but instead she's at home nursing, getting him to sleep through the night, and dealing with all the other struggles of first-time parents. She doesn't have to worry about getting skinny, doing photo shoots, or signing endorsement deals with Weight Watchers (yes, Jessica Simpson, I'm looking at you). She reminds us what is really important in life, being with your child and keeping him safe, both from outside harm and the public eye. She's even threatening to take five years off for her family. That would be sad for all of us, but I kind of understand that right now she has more important things to tend to than her clamoring fan base. The only thing that would be unforgivable is if she didn't return to music at all, and that's about as likely as her cuddling her swaddled child on the cover of Hello! next week. Just take your time, Adele. I know after the first words, first steps, and a few thousand diapers you'll be ready to get back into that recording studio. The birth of the new album will be just as classy as your baby's.
Follow Brian Moylan on Twitter @BrianJMoylan
[Photo Credit: Lia Toby/WENN]
More:
Pregnant Adele Taking "Five Years Off;" Planting a Vegetable Patch
Snooki's Son Makes His Magazine Debut… Six Days After He Was Born
From Our Partners:

Pippa Middleton Acknowledges Her Famous Bottom in New Book: 'It's a Bit Startling to Achieve Global Recognition'
(Celebuzz)

LeAnn Rimes Sits Down With Katie Couric For First TV Interview Since Treatment For Cyber Bullying
(Celebuzz)