See Cate Blanchett's Photoshop-Free Magazine Cover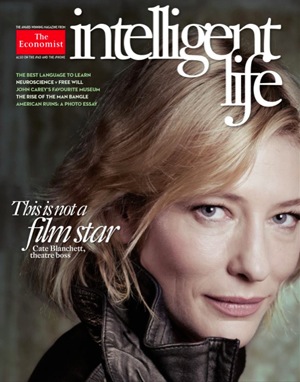 There's a lot that goes into making stars look as perfect as possible on magazine covers, but Cate Blanchett has spurned retouching for her latest magazine cover. Plus, she isn't getting any help from plastic surgery.
Blanchett looks radiant on the latest cover of Intelligent Life, and the photo wasn't digitally altered. When asked why they decided not to touch up the Oscar winner's face, Editor Tim de Lisle said, "She looks like what she is—a woman of 42, spending her days in an office, her evenings on stage and the rest of her time looking after three young children."
In a recent interview with Fashionetc.com, Blanchett also insisted that she hasn't had any work done. "There's been a decade or probably more of people doing interventions on their faces and their bodies, and now people are seeing that (in the) long term, it's not so great," she said. "I'm not sitting on a soapbox telling women what they should and shouldn't do. I just know what works for me. I'd just be too frightened about what it means long-term. Looking at women in their 20s doing this stuff, in the end all you see is the work. It doesn't fill me with admiration; it fills me with pity." Luckily for her, she's just naturally beautiful!