See Drew Barrymore's Ad for Neiman Marcus
It's a whole new Drew!  Turns out Drew Barrymore is more than just a pretty face on the big screen; she can also rock an ad campaign.  In the new fall ad campaign for Neiman Marcus, Ms. Barrymore shows off her sexy, slightly darker side for the luxe retailer in a mid-century Hollywood-inspired shoot.  The spread features the actress in a bunch of film-related scenarios such as reading a script, perching on a director's chair, or in this case…lying on a crumbled, smoking car.  Now the star always looks smoking hot, but in these photos her beauty is shown in a somewhat darker form with smoky eyes, porcelain skin, and dark red lips to go with her fiery red hair.  This smoldering, come hither look gives viewers a look at a different side of Drew — and it suits her!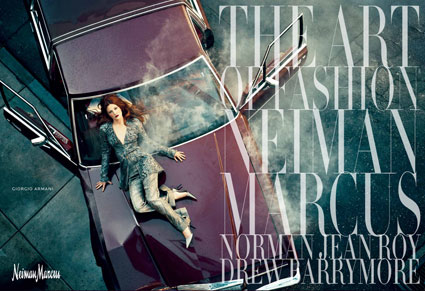 So what made Neiman Marcus choose Barrymore as the leading lady for their Art of Fashion campaign?  According to the Vice President of Neiman Marcus Brand Creative, "We felt that Drew Barrymore possessed not only the pedigree and glamour of old Hollywood, but also the confidence and spirit of the modern-day woman—much like Neiman Marcus itself."  He adds that, "The project was a collaborative effort between [photographer] Norman Jean Roy and Ms. Barrymore, and beautifully captures the essence of Neiman Marcus' edits of the Fall collections."  The campaign will make its debut in the September issues of Vogue, Vanity Fair, and W, among others.  What do you think — Fashionable or a Flop?