Sexy Big Bird Costume Banned, and the End of the Skanky Pop Culture Halloween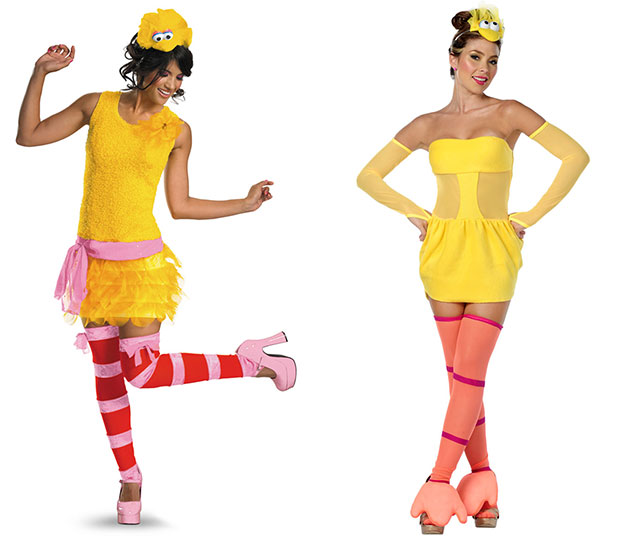 There is nothing worse than the scores of young women who bare their flesh every October 31 as some sort of ridiculous "sexy" costume. You've probably seen all of them: sexy football player, sexy ketchup bottle, sexy dog catcher, sexy kitten, or sexy leopard with a clear midsection so you can see its belly and boobs and stuff like Kim Kardashian recently sported. Even worse, sites like Yandy.com, which peddle such ludicrous ensembles, are getting into the pop culture game, ripping off beloved figures like Chewbacca, the Angry Birds, and Rainbow Brite, and making versions of them that look like the walk of shame the night before it happened.
But we can put a stop to it, and do it quite easily. Sesame Workshops, the company that owns Sesame Street and gives out its licenses, has sent Yandy a cease-and-desist letter for a "Sexy Big Bird" costume that they're peddling (above right). Oh sorry, it's an "Exclusive Yellow Dress and Stockings." My mistake. But it's no mistaking that the person who wears this is going to look like some floozy who works at a fried chicken joint on the Jersey Shore. And can we even talk about the flesh-toned tumors serving for the girl's toes?
Now, there is an officially sanctioned "Sexy Big Bird" costume (above left) that, while baring some skin, is certainly more demure (more demure in that it doesn't look like an outfit to be worn on a stage festooned with chrome poles). Sesame Workshops could successfully put a stop to such rip offs (there are also sexy Bert and Ernie costumes to contend with), and every company with patents and trademarks should do the same. George Lucas, get to work on Chewbacca. We can all stop them pretty easily by taking the "sexy" out of the description and making the costumes a bit more innocuous.
I don't really have a problem with girls revealing as much skin as they want on Halloween. Hell, go as Gypsy Rose Lee and walk around with a thong, a giant feather fan, a pair of evening gloves, and some tasseled pasties. I don't have a problem with skin. I just think it's silly for women to co-opt some outfit and put "sexy" in front of it, infantalizing themselves into some male sex fantasy. (Gay men are often guilty of this as well, but tend for butch and shirtless costumes, such as "sexy superheroes.") There are plenty of already sultry costumes out there that don't need a "sexy" rammed in front of it. Dress as Jeannie from I Dream of Jeannie. Dress as a swimsuit model or Victoria's Secret angel. Heck, go as that geek favorite "Slave Princess Leia" and delight every sci-fi lover who is an admirer of the female form. Just don't play the game of being "sexy." Shoving it in our faces just makes us want to turn away.
All the lawyers out there can help on this crusade. Don't they want to protect your characters, brands, comics, movies, TV shows, and condiment companies (I mean, "sexy mustard" is just going too far) from being humiliated? Don't they want to keep themselves from being the butt of the joke? Don't they want to cash in on the revenue that their concepts are already creating in pirated versions on the Internet? Big Bird sure does (especially this year when the presidential debate made the costume more popular than ever) and I hope others follow suit. Then we can get back to our regular slutty costumes. Well hello, nurse!
Follow Brian Moylan on Twitter @BrianJMoylan
[Photo Credit: Yandy]
More:
Which Celeb Halloween Costume Is Right For You?
Celebrity Halloween Costume Wrap-Up
From Our Partners:

Giuliana and Bill Rancic Planning for Baby No. 2: 'I Would Love a Girl,' Says E Host
(Celebuzz)

Kate Upton Flaunts Major Cleavage in Vogue's November Issue — PHOTOS
(Celebuzz)