Shakira's Huge Baby Bump: Other Stars With Insane Pregnancy Bellies — GALLERY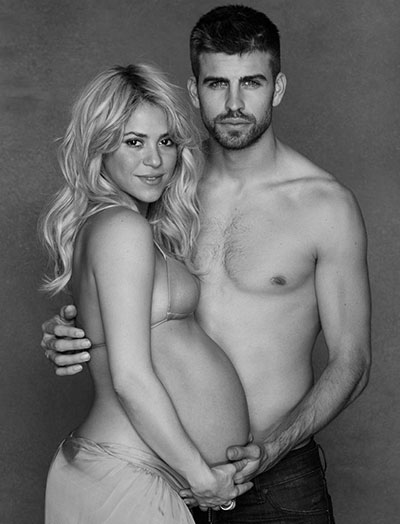 Shakira probably isn't shaking her hips right now. The 35-year-old singer and dancer revealed a picture of her growing belly on Twitter Wednesday and, given the crazy size of her bump, it's safe to assume that she isn't doing much of anything on her feet. We're surprised standing for the shot didn't send her into labor.
But despite the size of her ever-expanding belly, Shakira wanted to share the beauty (or horror, depending on how you feel about such things) of her pregnancy with the world. "Queremos celebrar el nacimiento de nuestro primer hijo con todos #babyshower," she wrote. Roughly translated to English, the Colombian music queen said, "We celebrate the birth of our first child with all."
Wait — child? As in, just one? Judging from the size of her belly, one would think Shakira and her boyfriend Gerard Pique are expecting a litter. It's a wonder 5′ 2″ Shakira, who weighed only 120 pounds prior to her pregnancy, can handle such a large addition to her tiny frame. 
Shakira's baby bump has to be one of the craziest celebrity baby bumps ever seen before, but here are others who give her a run for her money. 
Follow Lindsey on Twitter @LDiMat.
[Photo Credit: Twitter]
More:
Jessica Simpson's Snakeskin & Mariah Carey's Body Art: The Most Bizarre Baby Bumps
'The Voice': Shakira and Usher Are Livin' in a Powder Keg and Givin' Off Sparks — VIDEO

Craziest Celebrity Swimsuits (Celebuzz)