Shaun White Chops His Hair Off: 10 Celebs Who Ditched Their Signature Styles — GALLERY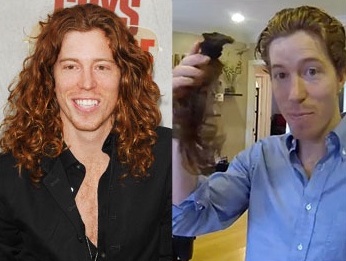 Two-time Olympic gold medalist Shaun White is as known for his long, ginger hair as he is for his snowboarding and skateboarding skills. But on Tuesday, he cut off his trademark 'do to donate to Locks of Love (which provides wigs to disadvantaged children suffering from long-term medical hair loss).
"I have been thinking about this for a while," White says in a clip of his major haircut he posted to YouTube. "But it's for a good cause so I want to do it. Somebody needs it more than I do." His long, red hair has been his trademark for a long time, so it makes sense that he was a little nervous going into this major cut. He even told the barber to go easy on him.
Check out the video of White's trip to the salon below.
We have to admit, without that big mane of ginger hair obscuring his face, White looks good. He should have lost all that extra hair weight a while ago!
Check out these other celebrities (including Justin Bieber and Taylor Swift) who decided to ditch their signature hairstyles. Some – like White's – turned out great, but others were probably wishing they had a time machine to go back and correct their hair don't.
10 Celebrities Who Ditched Their Signature Hairstyles
Follow Sydney on Twitter @SydneyBucksbaum
[Photo Credit: WENN/YouTube]
More:
Honey Boo Boo vs. The Kardashians in a Christmas Card Showdown
'Time' Names Barack Obama Person of the Year, But Who Is YOUR Person of the Year?
Bret Easton Ellis Tries to Apologize to Kathryn Bigelow, Fails Miserably
You Might Also Like:

20 Hot (and Horrifying) Movie Sex Scenes