Home
Celebrities
Shaun White, Olympic Snowboarder, Arrested for Public Intoxication — PIC
Shaun White, Olympic Snowboarder, Arrested for Public Intoxication — PIC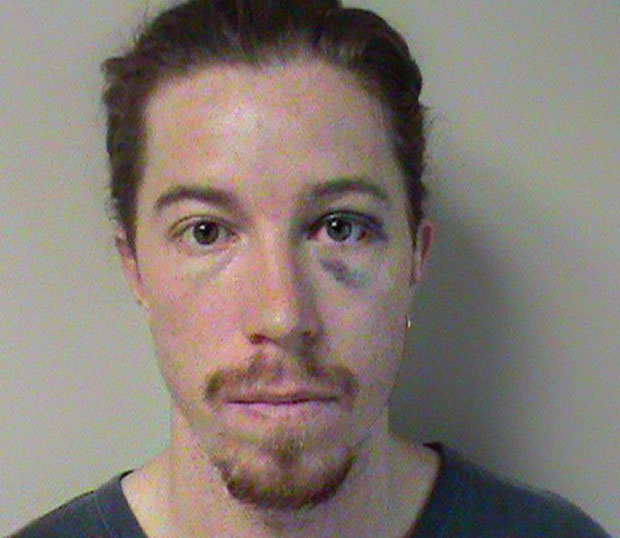 When Shaun White isn't racing down Olympic slopes on his snowboard, well, let's just say it sounds like he needs a babysitter. The 26-year-old Olympic snowboarder was arrested and charged with vandalism and public intoxication in Nashville, Tenn. at the Loews Vanderbilt Hotel early Sunday morning, the Metro Nashville Police Department confirms to Hollywood.com in a press release.
According to the Police Department's press release, officers arrived on the scene at 2 AM after receiving a call about an intoxicated man, allegedly White. White reportedly "pulled a fire alarm at the hotel which caused the evacuation of all guests," and a hotel employee stated that he witnessed White "destroy a hotel phone." White then allegedly tried to flee the scene via taxicab, but a citizen kept the cab from leaving after saying that he "was calling the police." Upon hearing the conversation, White reportedly "kicked the citizen and fled on foot." According to the citizen, he chased White down and White fell into a fence. White was reportedly transferred to the hospital and released later that afternoon.
The officers that reported to the scene said that White "appeared to be extremely intoxicated and smelled strongly of alcohol." And after White refused to sign the misdemeanor citations, arrest warrants were issued that officially charged White with vandalism and public intoxication.
Follow Lindsey on Twitter @LDiMat.
[Photo Credit: Metro Nashville Police Department]
More:
Kate Middleton Wins: French Judge Bans Further Publication of Topless Pics
Frank Ocean Channels 'Fear and Loathing' in 'Pyramids' Music Video
Kim Kardashian Prepares for Motherhood by Freezing Her Eggs
From Our Partners:
'Hunger Games: Catching Fire' First Look: Jennifer Lawrence Back as Katniss — EXCLUSIVE PHOTOS
(Celebuzz)

(Celebuzz)