People Are Furious About Jake Gyllenhaal's Latest Project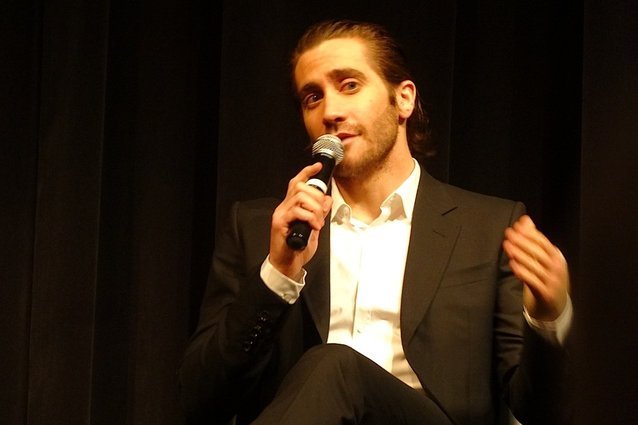 Splash News
Jake Gyllenhaal has a big year ahead of him. His second film with French-Canadian filmmaker Denis Villeneuve (Enemy) had a lot of critics talking last month, and he's got some exciting upcoming projects as well. A movie with David O. Russell, another one with The Bourne Supremacy screenwriter Dan Gilroy, and one exciting venture that a lot of people are actually furious about (if you can imagine a world where people are furious about something Jake Gyllenhaal is doing).
The Oscar-nominated actor is, apparently, trying his hand at high theory. Columbia University is launching its installment of The Year of James Baldwin and they've enlisted Gyllenhaal and Colm Toíbín, and Irish writer and literary critic, as speakers on the subject. As people saw this news flashing across their Facebook feeds, a collective "Huh?" was emitted, followed by some real anger. What does Jake Gyllenhaal have to do with James Baldwin? Part of the concern was linked to the issue of race, which is indeed a relevant issue here — as a giant in black literature and an author born during the Harlem Renaissance, it's relevant to question a celebration of his work that begins with a white American actor and an Irish author. But the outrage wasn't just related to race, and the response inspires another question: Can people accept celebrities as intellectuals?
It seems that we connoisseurs of pop culture like our celebrities to stay in their lanes — frivolous drama, yacht parties, hot messery. And many of them fit the bill. But what happens when one surprises us and starts voicing political opinions, or tries out literary and cultural theory? People tend to get judgmental, going so far as to assume that celebrities, like Gyllenhaal, couldn't possibly have anything to contribute to an intellectual conversation. 
Granted, certain actors have a little more leeway in the legitimacy department. Gyllenhaal speaking on Baldwin probably induced fewer eye-rolls than the Miley Cyrus college course (and the fact that she wasn't even directly involved with the class tells us that there's a general distate for all things that seek to link the celebrity world with academia). But pop culture fans and members of academia would likely benefit from a more accepting stance. The intellectual community could become more inclusive in terms of content (without losing whatever high-brow, exclusivity it may rightfully hold dear), and the celebrity world could expand into other areas, allowing both fans and stars to broaden their horizons. Ultimately, a meshing of the two worlds could inspire a wide variety of possibilities, some of which might prove to be truly fascinating.
You can learn more about the upcoming Columbia talk featuring Gyllenhaal and Toíbín here.
Follow @Hollywood_com Follow @shannonmhouston