Singing Legend Etta James Dies at 73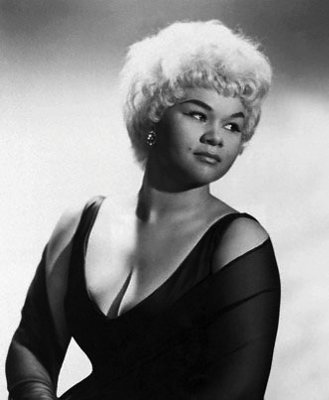 Beloved singer Etta James has died at age 73, according to reports from CNN and her manager, Lupe De Leon. The singer was famous for such songs as "Something's Got a Hold on Me" and of course, "At Last." She was suffering from leukemia, dementia, and hepatitis C and she passed away at a hospital in Riverside, Calif.
James was born Jamesetta Hawkins in Los Angeles in 1938. She suffered from a patchy home life. She was raised without knowing who her father was and was bounced around to various legal guardians, one of whom beat her and forced her to sing for guests. Throughout her life, being commanded to sing was difficult for her. But from traumatic beginnings, came a soulful, rich voice that touched the world from the time she had her big break with "Dance With Me, Henry" in 1954, to the 1960s when she released songs like "All I Could Do Was Cry" and "At Last." Despite her battle with a drug addiction and alcoholism, she continued to churn out hits through the late 1970s, eventually racking up six Grammys. James' growly, jazzy style is credited for bridging the gap between Rock and Roll and R&B, and her long list of titles reflects that. She was inducted into the Rock and Roll Hall of Fame, the Blues Hall of Fame, and the Grammy Hall of Fame. She also holds spots on Rolling Stone's 100 Greatest Singers of All Time and 100 Greatest Artists of All Time lists. When she made her comeback in the 1980s, she was received by music lovers the world over with open arms.
But it wasn't just her voice that we all fell in love with. She was an outspoken spitfire, known for her overt sexual witticisms and raunchy onstage behaviors that led many venues to require audiences to be at least 18 years older to watch her performances – even up until her early 70s. And despite her numerous challenges – not limited to her early home life and problems with drugs – she rose from her troubles and left an incomparable mark on her fans, the music world, and entertainment in general. Even today's biggest artists know the importance of James' career; Adele famously praised the singer to The Observer, saying "Everything she sings — you believe her, even if she never wrote a word of it herself." And while James clashed with Beyoncè after the singer portrayed her in Cadillac Records, the singer later faulted her dementia for the harsh comments.
James spent her remaining days with her husband and two sons at her side. She will be missed by friends, family, and of course, her multitudes of fans from every age and walk of life. I first listened to James with my mother and her song, "Sunday Kind of Love," has always been my favorite example of her legendary voice and style. So, in honor of her long and memorable career, I leave you with one of her greatest songs.