Box Set Reveals Duane Allman's Secret Identities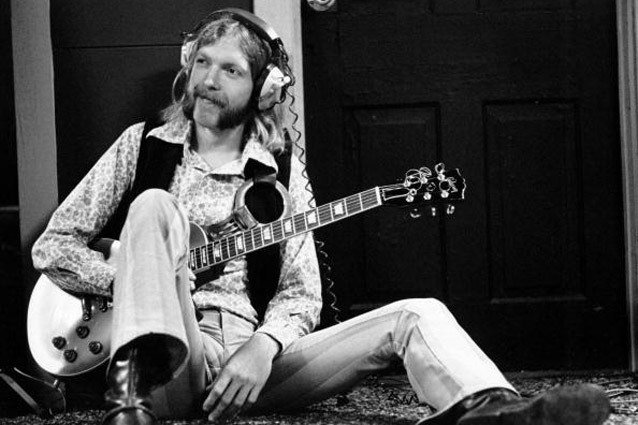 Getty/Michael Ochs Archives
Duane Allman left us 42 years ago this week, and while he's remembered as one of rock's greatest guitar stylists — not to mention one of its greatest tragedies, felled by a motorcycle mishap when he was just 24 — his whole story is seldom told. The release of the seven-disc box set Skydog: The Duane Allman Retrospective goes a long way towards addressing that issue. Over its vast expanse, besides a crucial handful of tracks from the guitar hero's best-known affiliations, The Allman Brothers Band and Derek & The Dominos, it offers a stunning array of other projects Allman contributed to in his woefully brief lifetime. From Allman's pre-ABB groups to his far-ranging session work, this rich piece of American musical history encompasses every aspect of the six-string sultan's output, often venturing into corners previously familiar only to hardcore aficionados, and definitively displaying the multiple musical personalities of a rock & roll icon. Here are just a few of the unexpected roles in which you'll find Allman over the course of this revelatory collection.
The Garage Rocker: "Gotta Get Away" by The Allman Joys
Here's Duane in full fuzztone mode, ripping into a raw-boned rocker with the mid-'60s band he and brother Gregg fronted.
The Psychedelic Soldier: "Norwegian Wood" by The Hour Glass
After The Allman Joys came late-'60s outfit the Hour Glass, who weren't above venturing into some serious psychedelic territory, as shown by Duane's deft manipulation of an electric sitar on this ambitious Beatles cover.
The Muscle Shoals Soul Man: "Hey Jude" by Wilson Pickett
Speaking of ambitious Beatles covers, before finding fame as a blues-rocking firebrand with The Allman Brothers Band, Duane found another kind of Fame: recording with tons of top-shelf soul singers at Muscle Shoals, Alabama's legendary Fame Studio. "Wicked" Pickett's Fab Four takeover is one of many awe-inspiring examples of Allman's Muscle Shoals tenure included here.
The Session Star: "Beads of Sweat" by Laura Nyro
Even after The Allman Brothers Band's ascendance, Duane continued following his muse far and wide, bringing his guitar prowess to all manner of sessions. Here he joins some of his Muscle Shoals comrades on a trip to New York to back the sophisticated song-poetry of Laura Nyro on an album that also included everyone from jazzman Joe Farrell to Rascals frontman Felix Cavaliere.
The Jazz-Funk Jam Master: "Push Push" by Herbie Mann
Anyone who's heard some of The Allman Brothers Band's epic jams knows that Duane doesn't need a script to follow. Here he chases jazz flute giant Herbie Mann across a 10-minute track full of juicy, jazzy jamming.