Smells Like Bulls**t – Robert Pattinson as Kurt Cobain
Source: The Sun

File this under Really Unconfirmed rumor give that The Sun is reporting it, but Robert Pattinson is rumored to have landed the role of grunge legend, Kurt Cobain in David Fincher's upcoming biopic, All Apologies. 
Scarlett Johansson is also rumored to have landed the role of Courtney Love, Cobain's wife and lead singer of the band, Hole.
We have a really hard time buying into this one but it was too good not to mention. It's hard to imagine Pattinson having the range to pull off the angst of the troubled icon or Johansson not bathing for a few weeks to allow for the perfect amount of grime needed to play Love. Stranger things have happened? No.. no we don't think they have.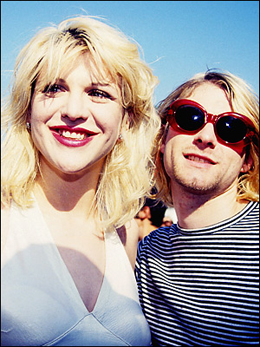 Kurt Cobain was the lead singer and writer of the seminal 90's band, Nirvana. The troubled musician had long battled heroine addiction and shot himself in 1994 in the couple's Seattle home. Cobain and Love had one child, Frances Bean, who is said to be friends with Johannson.
David Fincher is the director of films such as Fight Club, Se7en and The Curious Case of Benjamin Button.
So, we file this under "probable bullsh*t" but who would YOU want to play Kurt Cobain?