Snooki Claims She Never Attacked Jessica Simpson's Pregnancy Weight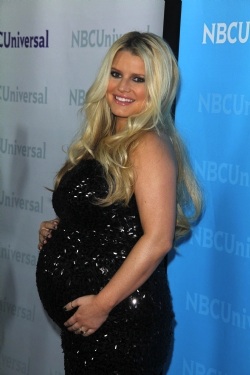 Jessica Simpson can breathe a little easier, because while plenty of people are mocking her for gaining weight while pregnant, Snooki claims not to be among them.
Sure, last week, Nicole Polizzi told Us Weekly, "I would die if I were her size." While that certainly sounds like a dig about Simpson's weight, Snooki now insists she wasn't hating on another celebrity who's expecting. "I NEVER dissed Jessica Simpson you weirdo tabloids, get over it with your 'pregnant war' articles," she declared on Twitter. "I love the girl and her hot ass bump."
Snooki was wise to apologize, since she's only five months along and will likely be the target of some kind of weight-related criticism before welcoming her little guido or guidette. These days, it's more unusual for a celebrity mom-to-be to get through their entire pregnancy unscathed.
Simpson is certainly the worst example in recent memory. While it's perfectly natural for pregnant women to gain quite a bit of weight, her reported 50 pound weight gain has been a hot debate, as well as a "Hot Topic." Last month the hosts of The View speculated about how much Simpson had gained. Joy Behar declared, "The girl is fat." Simpson was then publicly defended by stars from Tori Spelling to Sarah Palin.
Amazingly, celebrities are also attacked for not gaining enough weight, or slimming down too quickly. Victoria Beckham, Rachel Zoe, and Nicole Richie have all been accused of endangering their baby's health in order to keep their figure because so-called experts felt they looked too skinny during their pregnancies. Famous moms remain targets even after their baby is born. Bethenny Frankel's post-pregnancy weight loss plan was deemed too extreme after she lost about 30 pounds in the first three weeks after giving birth. More recently, Beyonce's rapid slim down after having daughter Blue Ivy fueled more ridiculous rumors that she hadn't given birth to the baby herself.
If celebrities can't win the pregnancy weight wars, what hope is there for the rest of us? Pregnancy used to be a time when women could "eat for two" without judgment. Celebrities should be able to enjoy an extra helping of dessert in peace.
More:
Snooki Disses Pregnant Jessica Simpson: 'I Would Die if I Were Her Size'
'Snooki & JWOWW' Preview: 'Shore' No More
Ryan Gosling's Not Dead: Enough with the Celebrity Death Hoax
[E!]