Snooki's In-Laws Surprise Her with Engagement Party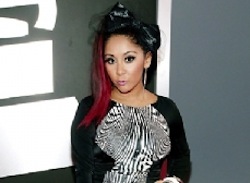 Snooki is no stranger to partying, but she enjoyed a different kind of bash on March 10 when her future in-laws threw her a surprise engagement party. While some parent might not be thrilled to have a daughter-in-law best known for boozing and brawling on MTV, the parents of Snooki's fiancé, Jionni LaValle, welcomed her to the family with a party at their home in East Hanover, New Jersey.
Jenni "JWoww" Farley and her boyfriend Roger Matthews were in attendance, along with the Polizzis, who brought "Congratulations" balloons and flowers for their daughter. While Snooki's free to enjoy her beloved pickles, presumably the menu differed a little from the usual Jersey Shore soiree. "Ron-Ron Juice" is definitely off-limits when you have a little meatball in the oven.
Source: Us