Snooki's Son Makes His Magazine Debut… Six Days After He Was Born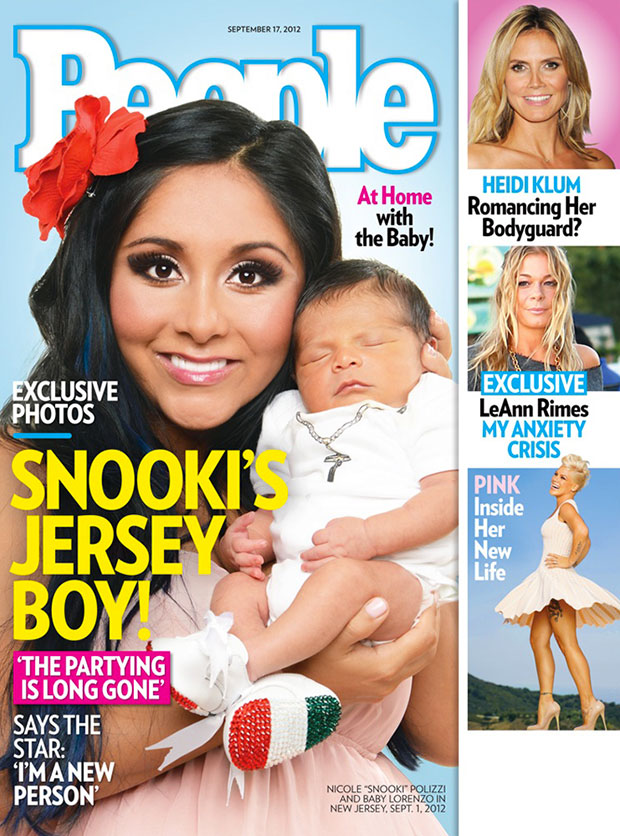 Although he's months away from standing on his own two feet, little Lorenzo LaValle is already following in his mother Nicole "Snooki" Polizzi's footsteps: He's claiming his place in the media spotlight. Or, rather, he's being held up like a product that needs placement on the cover of this week's People magazine (not like he had much say in the matter).
Enzo has been an actual person who breathes air for less than a week and his precious visage is already being flaunted for all the world to see. According to People, Snooki talked to the magazine and propped her offspring up for the camera only six days after giving birth. At a time when most babies are doing little more than napping, gurgling, and pooping, Lorenzo was saying, "Cheese," (figuratively speaking, he can't actually talk yet).
While Snooki always manages to elbow her way to the front page, we didn't expect to see her son make his tabloid debut so soon. In fact, we were downright shocked to hear that he was getting ready for his close-up when he was just six days old. "That must be the youngest baby to be on a magazine cover ever," we thought. And oh, how wrong we were. A little trip to Google taught us that celebrities have a propensity for showing off their newborns as soon as possible. The biggest offender? Former Girls Next Door star Kendra Wilkinson. She paraded her son Hank Baskett Jr. in front of the camera when he was just two days old. Two days old. To put things in perspective for those of you who have never raised a child, babies can't even hold their heads up on their own until they are one-two months old.
Reality stars like Snooki, Wilkinson, and Kourtney Kardashian (who posed with son Mason Disick for the cover of Life & Style when he was only eight days old) aren't the only celebrities guilty of thrusting their children into the spotlight when they are barely old enough to open their eyes. Elton John and his husband David Furnish showed their son Zachary off just ten days after his birth.
As happy as we are to see these little tykes and know that the families are doing well, I for one wouldn't mind waiting a little longer before seeing them in print. Let your babies sleep; they'll be just as cute in a few months. And moms and dads, let yourself get a little rest, too. Spend time with your child and your family, the exclusive interviews can wait.
Here's a look at celebrity babies that were paraded on the covers of magazines shortly after they were born.
The Wall of Shame Fame: Celeb Parents and Their Newborns
Kendra Wilkinson's son Hank Jr. was just two days old when he graced the cover of OK in December 2009.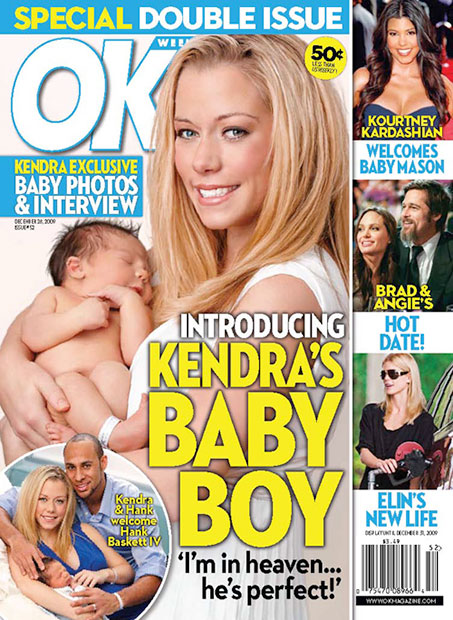 Kourtney Kardashian smiled with her son Mason eight days after giving birth for Life & Style in December 2009.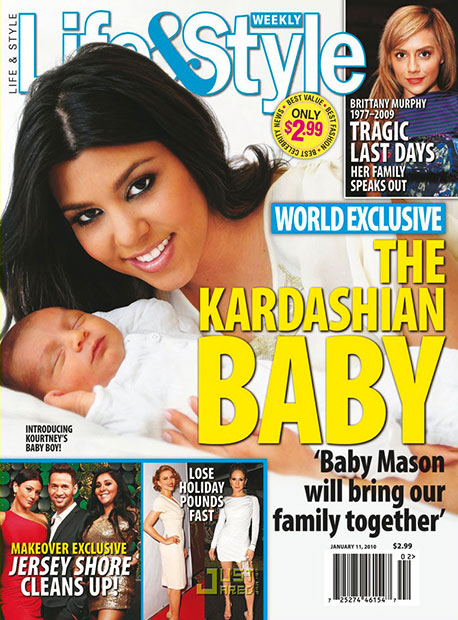 Elton John's son Zachary was only 10 days old when he appeared on the cover of Us Weekly  in January 2011.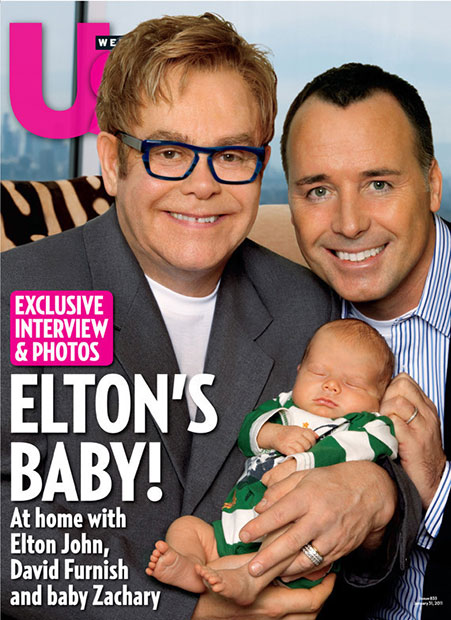 Follow Abbey Stone on Twitter @abbeystone
[Photo Credit: People; Us Weekly; OK!; Life & Style]
More:
MTV Motherhood: What Snooki Can Take Away From 'Teen Mom'
Update: Snooki Gives Birth to a Baby Boy
Snooki Reveals Her Baby's Name: What This Tells Us About His Future
From Our Partners: