Solange's New Music Video Makes Us Wonder Why We Haven't Seen a Collaboration with Beyonce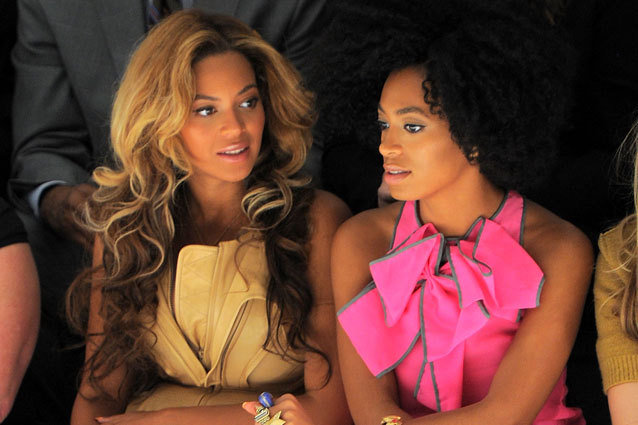 Getty Images
Solange may be the younger and slightly less famous of the two Knowles sisters, but she certainly isn't any less cool than Beyoncé. And never has this been more obvious than in her new music video for "Lovers in the Parking Lot." For the video, Solange returns to her hometown of Houston, where she dances through arcades, pawn shops, and empty, florescent-lit hallways wearing, we should mention, a lamé blouse, light-up shoelaces, and iridescent magenta shorts. Really, everything about this video is awesome. 
While grooving along to the song, making a mental list of all the clothes I now need to put on my back-to-school shopping list (you still do that in your 20s, right?), it hit me hard how cool this woman is. So effortlessly, undeniability cool. And then my mind began to break into strange tributaries of thought.  
For instance, Solange has a nine-year-old son. Does he realize his mom is the coolest lady ever? Is he embarrassed by her like most kids are by their moms? Does he let her give him a kiss when she drops him off at school? And then I remembered, Solange had her son when she was just 17 years old. What did big sister Beyoncé think about this? Was she worried? Supportive? Jealous that her younger sister was starting a family before she herself was? And now that they're both moms, do their kids hang out? Does Solange give Bey parenting advice? Does Solange like Jay Z? So many questions!
Until, finally, I arrived at one that is actually worth asking the public, on the Internet: Why haven't we seen a Knowles sisters collaboration? A 2012 New York Times profile of Solange notes that she has written songs for her older sister before, including "Get Me Bodied" and "Upgrade U," but has steered clear of creative input from Beyoncé. Furthermore, Beyoncé is quoted as saying, "My sister will not record with me. She's her own woman." 
I get that, I really do. Solange, I'm sure, wants to stay out of her sister's shadow (which she has succeeded in doing thus far) as well as set herself apart musically and aesthetically. But would a duet be so hard? Especially at this point, with an established fan base for Solange — one that's decidedly different from Beyoncé's (albeit with some overlap, including present company) — and contrasting artist collaborations becoming increasingly in vogue. If Beyoncé can collaborate with Jay Z, and Jay Z can collaborate with Justin Timberlake, and Miley Cyrus can collaborate with Kanye West for Christ's sake, why can't Solange and Beyoncé join forces? 
We promise you it won't be like that time you were a backup dancer for Destiny's Child when you were 13, Solange. Give it a go. What's the worst that can happen? (Answer: A hit single.) 
More:
Why Does Beyoncé Need £1,500 Worth of Chicken? 
Beyoncé's Ban on Unflattering Photos Isn't Working Out 
H&M Shamelessly Exploits Beyonce to Sell Bathing Suits
Follow @hollywood_com
| Follow @abbeystone  
---
From Our Partners:


A Complete History Of Twerking (1993-2013) (Vh1)


15 Stars Share Secrets of their Sex Lives (Celebuzz)