Solange Knowles: I'm Not Giving Beyonce Parenting Tips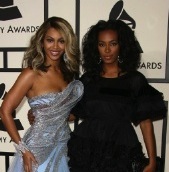 Beyonce and Jay-Z aren't accustomed to being told what to do, but Solange Knowles might get away with it. Beyonce's little sister has a 7-year-old son, Daniel Julez, so she knows a thing or two about kids. However, she also knows better than to bog down new parents with unwanted advice.
"I think it's really important for every mother to find their own way. I think it's actually the most annoying thing when you're a new mom and you're getting so much advice from other mothers," Knowles tells the British fashion magazine Rollacoaster. "You really just have to feel it out for yourself."
However, she's still very excited about her new niece
Blue Ivy Carter
. Her role is "very different to being a mother, but there's still that sort of love that you can't even put [into] words to describe," Knowles says. "It's really special to have a niece because I have a son, so I get to have a little girl too!"
Solange isn't the only celebrity mom welcoming an A-list niece. It appears that Jessica Simpson is due to give birth any day now — and Simpson's sister Ashlee, mom to 3-year-old Bronx, is with Knowles when it comes to dishing out parenting advice. When the Simpson sisters appeared together on the Rachel Ray Show, Ashlee said she's mainly just cheering her older sister on. When the mother-to-be worried that her PBJ cravings might make her gain too much weight, Ashlee laughed, "I'm like, 'Go for it!' I gained 52 pounds when I was pregnant and it was awesome." That's just the kind of sisterly advice a new mom needs.
[Us, Rachel Ray & Rollacoaster ]