Some New York Lessons for Lindsay Lohan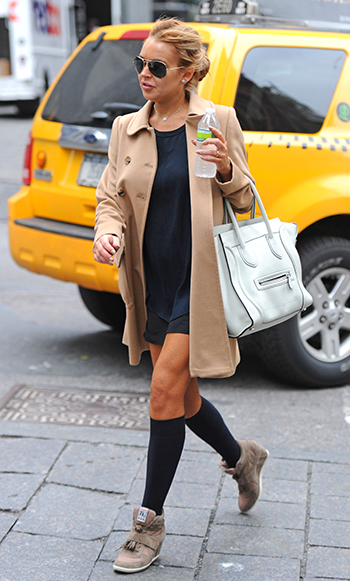 Last night, Lindsay Lohan was arrested in New York for hitting a pedestrian with her car and leaving the scene of the crime. Totally shocking. Oh, not that Lindsay was arrested, or even that she hit a pedestrian and then took off (she's an old pro at that). What is shocking is that she was driving in New York. We know it's been a long time since you've lived here, honey, but it seems all that time by the Pacific Ocean has made you forget the rules of surviving in the "concrete jungle where dreams are made of" (as Alicia Keys describes it grammatically incorrectly). Here's a refresher course.
Don't Drive: No one in New York drives. Everyone knows this. You know the Missing Persons' hit "Walking in LA"? Well, just change the words to "Driving in New York. Nobody drives in New York." We have cabs and the subway and walking and bike lines and damn Segways if you really want to use one. Or a Vespa. You'd look so cute crashing a Vespa into a bank branch on Sixth Avenue. Really you would! And if you don't like any of those options, hire a driver. That's what they're there for — to keep you out of little scrapes like this.
Don't Stand on the Subway Stairs: Now that we've gotten you onto the subway, there is one very important thing to remember: do not stand at the top of the stairs and finish your cell phone conversation. Either you need to step out of the way so that everyone else can get into the station, or you need to finish berating your assistant at a later date. Those are your options. If you stand at the top of the stairs, someone will yell at you and it will probably end with, "I don't give a f**k if you're Joan of Arc, get out of the f**king way."
We Say F**k Here: It's a New York thing.
Find the Hot Clubs: We know you've been spending a lot of time at the Dream Hotel. That's fine, except when you don't get in and they embarrass you out front. But that is perilously close to the Meatpacking District, where no self-respecting New York travels between Friday at 6 PM and Monday at 8 AM (unless it's to go to The Standard). Also, Marquee is right up the street. I know that's where you got your banquet dancing start, but times have changed. Boy, have they ever. Give Le Baron a shot. And if you get in, let us sit at your table.
Don't Be Afraid of Brooklyn: Have you seen Girls? You know, that show with a girl who does crack and runs through abandoned Brooklyn? No, Lindz, that is not a documentary about your life. It is fiction. But it just goes to show you that all the really cool, cutting-edge s**t right now is happening in an outer borough. Maybe you should visit, get some of that hipness back. When wondering how to get there, just refer to rule #1.
If There Is a Line, Wait in It: One of the truisms about New York is that if there is something cool, great, original, or amazing, then you will have to compete for it. That means line waiting. However, at the end of that line is usually something awesome (unless it is the line in front of Magnolia Bakery. All that waits at the end of that is dry, sandpapery cakes covered in too much frosting). If you see a line, just hop onto the end of it and see what you get. It could be a great burger at Shake Shack or a new limited-edition sneaker at Supreme. Whatever it is, it will rule. We know you think you should be able to cut the line, but those days are over, sweetie. So get in the back and have yourself a wait. No cutsies!
The Bronx Is Up and the Battery's Down: Always helpful for when you get lost.
Marry Well: Lindz, you're not making much money, and you want to continue to live life in the manner to which you've become accustomed. This is New York. There are as many bankers, lawyers, doctors, trust fund heirs, and spoiled rich kids of every stripe that are just looking to get hitched. You need one of these to balance your budget. So put on a tight top and get out there in the dating pool. There are even a lot of power lesbians with big bank accounts, if you want to go back down that road.
Gossip Girl Is Not Real: Stop asking around for Blair Waldorf. That is fiction. You really have a hard time with this, don't you?
Follow Brian Moylan on Twitter @BrianJMoylan
[Photo Credit: Josiah Kamau/Getty Images]
More:
Lindsay Lohan Arrested for Leaving the Scene of an Accident
Alyssa Milano and Lindsay Lohan call for return of abducted New York child
Lindsay Lohan Dines With Woody Allen: Feast Your Eyes On The Unlikely Pair