The 'Sports Illustrated' Swimsuit Issue Now Includes Beauty Tips: What is Going on Here?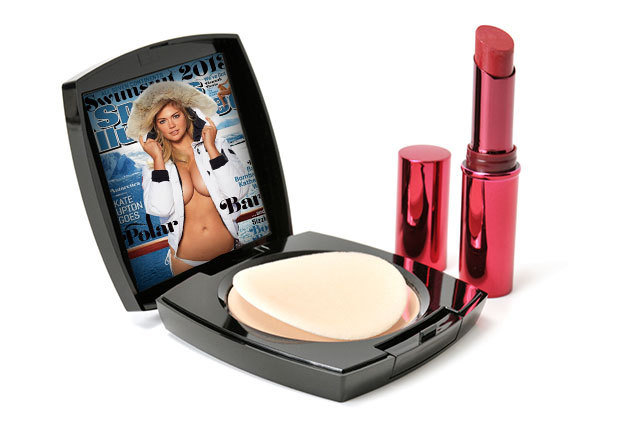 Behold, a monument to our conflicted times: this year's Sports Illustrated Swimsuit Issue.
Or maybe we should call it the "Swimsuit" "Issue," with sarcastic quotation marks. "Swimsuit" because, well, is it really a swimsuit when it's just a pair of barely existent bikini bottoms? And is it really a magazine "issue" when it's actually a soft-porn substitute in a hardcore-porn-always-available world? Not to mention the fact that the sports mentioned in the title are hardly the focus of this special issue. And now, as if all of the above wasn't confounding enough, the SI Swimsuit Issue also includes beauty tips, presumably for women?
Apparently the venerable yearly tradition isn't above courting the many ladies (18 million!) who also ogle the mostly naked models, as the New York Times reports. It sounds crazy, but this is actually evidence of a number of not-so-wonderful truths about modern media:
1. Print media is in trouble. If more beauty tips means a few more readers, more beauty tips it is!
2. Women love torturing themselves over their body image. Oh, goody, pages and pages of freakishly flawless women in various stages of undress! How many concave tummies and unnaturally large breasts can we find to compare to our own?
3. When feeling badly about themselves, women love to be told how to look better. Thus, beauty tips, which play well next to… you guessed it, ads for beauty products. Probably filled with crazy-hot women who also make us feel bad about ourselves.
4. This takes us back to 1. Or 2. Or 3. We are in an endless desperate media/poor self-image/product-consumption cycle. Granted, this isn't just in Sports Illustrated; it's just laughably evident there.
Or, as NYU professor Laura Portwood-Stacer told the Times, "Women are trying to see themselves in the images; they're comparing themselves to these ideals of feminine sexuality." And furthermore, according to SI "swimsuit editor" M.J. Day, women are "a part of our franchise we can grow … Why not deliver more to them?" We're guessing a treatise on the state of, say, women's healthcare or a profile of Hillary Clinton wasn't part of that brainstorming session.
Hollywood.com correspondent Jennifer Keishin Armstrong is the author of two forthcoming books, Sexy Feminism (due out in March) and Mary and Lou and Rhoda and Ted, a history of The Mary Tyler Moore Show (due out in May). For more information visit JenniferKArmstrong.com.
Follow Jennifer on Twitter @jmkarmstrong
[Photo Credit: Photo Credit: Hollywood.com Illustration; iStockphoto; Sports Illustrated]
---
From Our Partners:

Pregnant Kate Middleton Bikini Pics Spark Palace Anger (Celebuzz)

50 Steamiest Movie Kisses of All Time (Moviefone)