Home
Celebrities
10 Song Lyrics Most Often Misquoted, And 10 That Sound Wrong When...
10 Song Lyrics Most Often Misquoted, And 10 That Sound Wrong When They're Actually Right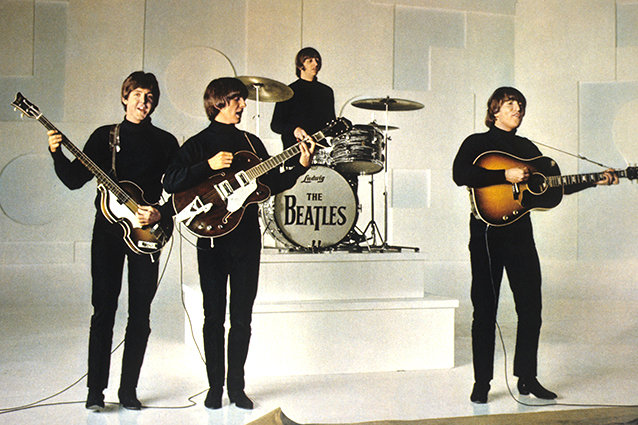 "Hold me close, young Tony Danza." Phoebe from Friends is not the only one to mess up song lyrics (or make them better, in our humble opinion). We've all crooned out some variation of "I blow bubbles when you are not here" while singing along to Macy Gray's hit "I Try." Then there are the folks who claim to be "feelin' so fly like a cheese stick." And who in the world is Jimi Hendrix talking about kissing in "Purple Haze"? 
To set the record straight, Spotify has released a playlist of the 10 most misquoted song lyrics. Check out the full rundown of the correct lyrics and the strange words that people think they hear — the comparisons are unsurprisingly hilarious.
But sometimes bizarre lyrics aren't misquotes at all. We've compiled a list of ten correct song lyrics that are so strange that they sound wrong:
1. Third Eye Blind, "Semi-Charmed Kind of Life"
"The sky it was gold, it was rose / I was taking sips of it through my nose"
"Smiling in the pictures you would take / Doing crystal meth / Will lift you up until you break"
2. Tyler the Creator, "Yonkers"
"And stab Bruno Mars in his goddamn esophagus"
"Threesomes with a fucking triceratops, Reptar"
"So how about I start a team of leaders / And pick up Stevie Wonder to be the wide receiver?"
3. Donovan, "There Is A Mountain"
"First there is a mountain / Then there is no mountain / Then there is"
4. The Beatles, "I Am The Walrus"
The entire song. But if you insist on examples, here are some higlights:
"I am he as you are he as you are me and we are all together / See how they run like pigs from a gun, see how they fly / I'm crying."
"Sitting on a cornflake, waiting for the van to come / Corporation tee-shirt, stupid bloody Tuesday / Man, you been a naughty boy, you let your face grow long."
"I am the eggman, they are the eggmen / I am the walrus, goo goo g'joob."
"Yellow matter custard, dripping from a dead dog's eye.
"Crabalocker fishwife, pornographic priestess"
"Expert textpert choking smokers"
Okay, that's more than enough…
5. Elton John, "Solar Prestige A Gammon"
"Solar prestige a gammon / Kool kar kyrie kay salmon / Hair ring molasses abounding / Common lap kitch sadin poor floundin"
6. Steve Miller Band, "The Joker"
"Some people call me Maurice / Cause I speak of the pompitous of love"
7. Johnny Cash, "Flushed from the Bathroom of Your Heart"
"And now you say you've got me out of your conscience / I've been flushed from the bathroom of your heart"
8. Jimmy Webb, "MacArthur Park"
"Someone left the cake out in the rain / I don't think that I can take it 'cause it took so long to bake it / And I'll never have that recipe again… Oh no."
9. They Might Be Giants, "Birdhouse in Your Soul"
I'm your only friend / I'm not your only friend / But I'm a little glowing friend / But really I'm not actually your friend / But I am
10. Britney Spears, "Ooh La La"
"So baby come with me and be my ooh la la"
Huh?
Follow Caroline On Twitter @Carolinesb | Follow Hollywood.Com On Twitter @Hollywood_com
More:
YouTube Thinks Taylor Swift's Lyrics Are Absolute Nonsense 
Rick Ross Kind of Apologizes for Lyrics Glorifying Rape, But Doesn't Really Apologize At All
Lindsay Lohan Gets New Tattoo of Billy Joel Lyrics
---
From Our Partners


Stars Pose Naked for 'Allure' (Celebuzz)


20 Grisliest TV Deaths of 2012-2013 (Vulture)