So Stacy Keibler Might Not Be Coping With Her Breakup as Well as We Thought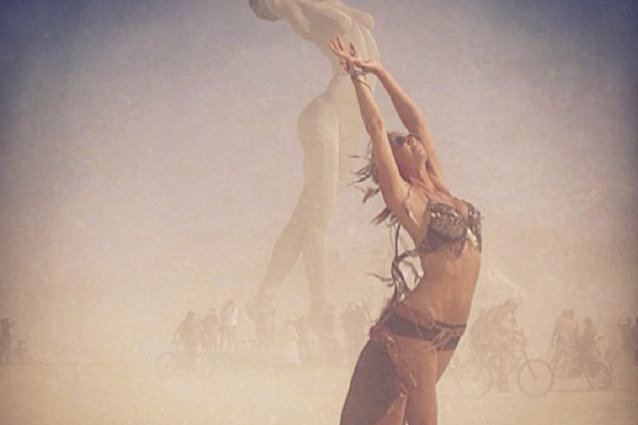 Instagram
Celebrities are not like us. Usually the difference is obvious because they do things like charter helicopters and hang out Beyoncé. But breaking up with George Clooney might be enough to make a girl lose her celebrity mojo. And maybe her mind a little bit. Wearing strange outfits, staying up until sunrise… It looks like Stacy Keibler has descended from her celebrity heights back down to a regular old girl who just got dumped . Let's not forget that Keibler started out as a female wrestler, far from the chicness she would go on to display at the Oscars and Golden Globes.  
Not many people have to go on a press tour to announce the end of their relationship, but Keibler managed to get through the requisite interviews and articles with her head held high (Elisabetta Canalis she is not). But she clearly misses Clooney's 50+ crowd, because sooner than the words "We will always be friends" could be spoken, she jetted off to the world's biggest and most rapidly aging convention of hippies, burnouts, and large scale bonfire enthusiasts: Burning Man.
And, better yet, she put it all on Instagram. #LifeChangingCrew.
That's actually Kiebler, dressed in something halfway between yoga pants and Princess Leia's slave outfit. The identically posed gigantic statue right behind her gives the whole thing a faint 1989 glamour shot vibe. Already, this is a lot to process.
Keibler's words: "Why can't these be everywhere?"  
Not sure why several high school Rent fans are at Burning Man.
That coat, that pose, that hand gesture, those sunglasses, that guy with a bicycle: so much to talk about, and Keibler's maddeningly vague caption is simply "Best #sunrise ever." 
Wait, what does a cast photo from Waterworld have to do with this?
According to the festival, the purpose of this was brightly colored party was to "attract many alien Visitors, and hope this will stimulate our planet's faltering economy." Oh, so this is all some form of nightmarish, peyote-fueled charity work. At least that's something you would expect from a celebrity. 
Truer words were never spoken.  
If Keibler's spiral into granola-fueled decay isn't clear enough already: Here's a photo from Keibler's account in May, a few months before her relationship with Clooney came to an end.

This woman met a princess. And touched her. And Instagrammed her.  
Meanwhile, Clooney also took a weekend trip with friends, dropping by the Venice Film Festival with costar and pal Sandra Bullock to promote their new film Gravity.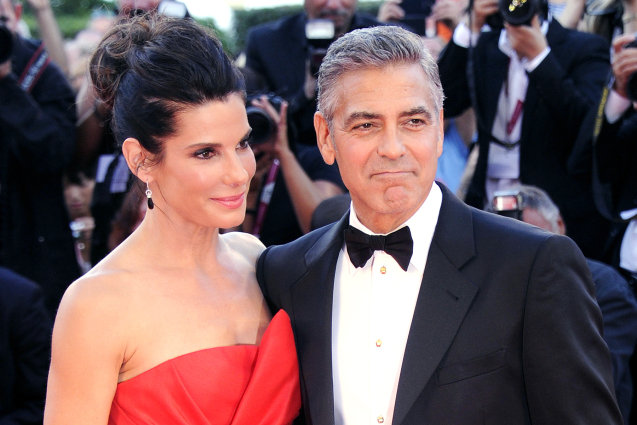 WENN
Looks like they both have their coping mechanisms. 

More:
Stacy Keibler Dumps George Clooney: He's Single!
Stacy Keibler Never Discussed Family Plans With George Clooney
Stacy Keibler Upbeat After Clooney Split Reports
---
From Our Partners:


40 Most Revealing See-Through Red Carpet Looks (Vh1)


15 Stars Share Secrets of their Sex Lives (Celebuzz)