Stephen Colbert's Sister Elizabeth Colbert Busch Wins Democratic Primary for Congress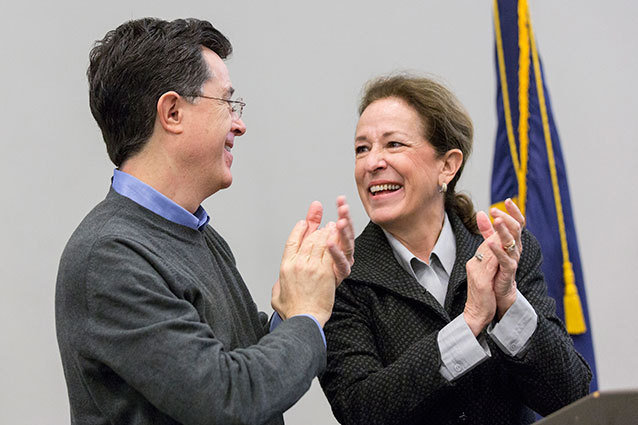 Stephen Colbert has run for President of the United States, testifed before congress, and roasted the president at the White House Correspondent's Dinner, but he might be closer to the hallowed halls of the legislative branch than ever. Well, at least his sister is.
Elizabeth Colbert Busch, a business woman who also works at Clemson University, won the Democratic primary for a vacant seat in the House of Representatives from her home state of South Carolina. Her victory was described as a landslide, which possibly has to do with the campaign help that her famous brother brought to the race. She will have to face one of several Republicans who are in a closely contested battle to run against her, most notably Mark Sanford, the former governor of the state who resigned amid controversy (remember, he was the fool who disappeared for a few days and said he went hiking when he really fled to South America to have sex with his mistress). 
RELATED: Stephen Colbert to Run for President
Colbert has said he'll do everything possible to help his sister win, but as himself, not the Fox News-esque character he plays on TV. Judging by the sway he has over his easily mobilized fan base, he can probably make it happen. Just wait until he starts lobbying for ridiculous bills over Thanksgiving dinner. 
Follow Brian Moylan on Twitter @BrianJMoylan
[Photo Credit: Richard Ellis/Getty Images]
---
You Might Also Like:


15 Oscar-Winning Nude Scenes


Young Jack Black Is Totally Unrecognizable