Stop Everything and Watch Shaquille O'Neal Lip Sync Beyoncé at the Super Bowl — VIDEO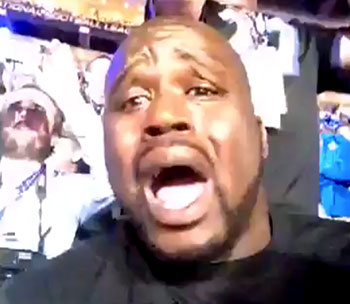 We interrupt your regularly scheduled programming to bring you some of the most important art to come out of Sunday night's Super Bowl. Shaquille O'Neal was at the Super Bowl, natch, and also fancies himself quite the Beyoncé fan. So he did what any superfan of the über-star ought to do: He recorded himself dramatically lip syncing along. Seems appropriate given the recent scandal, no? Seriously though, America, this is what the Internet was truly made for. A video like this? Well, it's right up there with Hamlet the Mini-Pig in terms of viral potential.
Shaq didn't just go with the obvious lip syncing choice, either (Single Ladies) — he got right to the heart of the matter, and really took a risk to nail down the soaring beauty of her uplifting, inspirational slow jam, "Halo."
Don't believe us? Shaq, former King of Twitteronia, took a page from RuPaul's Drag Race and took his viewing of Queen Bey as an opportunity to lip sync…for his LIFE! And if it were up to us, we'd say Shantay, you stay!
Just watch the video. It's a beautiful and hilariously strange little thing.
Stars! They're just like us!
[Photo Credit: Tout]
Follow Alicia on Twitter @alicialutes
---
You Might Also Like:

Biden? Ford? Surprisingly Hot Young Pics of Politicians

Who Wore This Crazy Hat?

Stars Who Changed Their Look After Love