Superduds — 7 Past Superhero Miscasts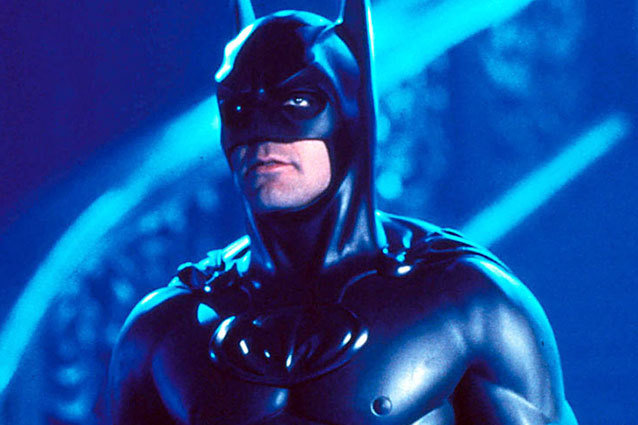 Warner Bros
The announcement that Ben Affleck would play Batman in the upcoming Batman vs. Superman movie sent shockwaves around the Internet. Twitter, Facebook, and comic book forums lit up as millions of geeks expressed their opinion that Affleck was seriously miscast. While we haven't yet seen Affleck don the armor of the Dark Knight, we have seen past failures when superstar and superhero don't quite merge harmoniously.
George Clooney as Batman/Bruce Wayne, Batman & Robin (1997)
One could fill an entire list of miscasts from this movie alone, but the worst decision was to cast George Clooney as Batman. The debonair Clooney certainly is a talented actor, but none of that talent surfaced during this two-hour campfest.
Ryan Reynolds as Green Lantern/Hal Jordan, Green Lantern (2009)
There's nothing inherently wrong with infusing lightheartedness into a film adaptation of a comic book, but there has to be some sort of plausibility to it. Casting Ryan Reynolds as a man without fear is simply laughable. The man lacks a serious bone in his body, and we're to believe he can stand up to the embodiment of evil?
Brandon Routh as Superman/Clark Kent, Superman Returns (2006)
He may have looked and sounded like Christopher Reeve, but he was certainly no Superman. More of a Superboy, Brandon Routh just didn't have the gravitas, charisma or machismo to play the Man of Steel.

Warner Bros/Everett Collection
Halle Berry as Catwoman, Catwoman (2004)
Halle Berry's Catwoman may not be the Selina Kyle most people associate with the famed comic cat burglar, but even the re-imagined sexy alternative didn't suit the Academy Award winning actress. Her acting was simply so abysmal that some critics thought she should return her Oscar for Monster's Ball as a penalty for pitiful performance.
Tobey Maguire as Spider-Man/Peter Parker, Spider-Man Trilogy
Sam Raimi's Spider-Man and Spider-Man 2 were two of the best superhero movies of all time (the less we talk about Spider-Man 3, the better), but Tobey Maguire's Spider-Man really didn't conform to his comic book counterpart. Lean, wiry and with a smart-ass personality, Spider-Man was not the lovesick puppy dog that Tobey Maguire portrayed, who resembled more like Clark Kent than Peter Parker.
Edward Norton as Bruce Banner, The Incredible Hulk (2009)
Another capable actor who just didn't seem like a right fit for the role, Edward Norton was grossly miscast as Bruce Banner. In real life, Norton's a very intelligent man, but he could never exude the genius-level intellect of Bruce Banner. But most importantly, Norton just doesn't possess the inner rage that would manifest itself into an unstoppable, hulking green force.
Shaquille O'Neal as Steel/John Henry Irons, Steel (1997)
Where to begin? For starters, Shaquille O'Neal is a basketball player with no acting skills, despite having appeared in several films by now. Second, while Shaq may possess more inches than required to reach the imposing height of John Henry Irons, he doesn't have the chiseled physique nor the hardened look to strike fear into criminals.
More:
Get Ready for 'Batman vs. Superman'
Matt Damon Join's Christopher Nolan's 'Interstellar'
45 Jokes About Ben Affleck as Batman
---
From Our Partners:


40 Most Revealing See-Through Red Carpet Looks (Vh1)


15 Stars Share Secrets of their Sex Lives (Celebuzz)