Supermodels Who Swapped The Catwalk For The Recording Studio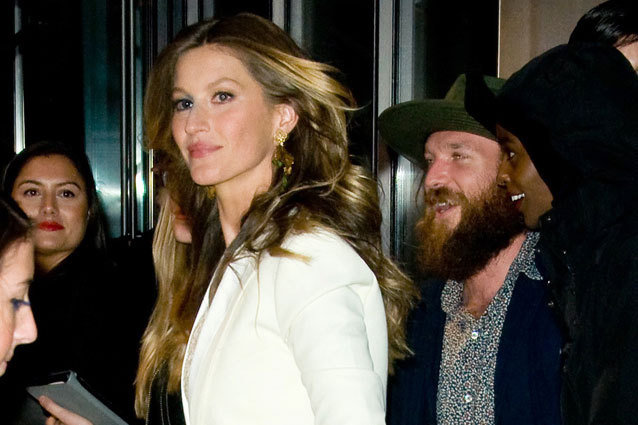 WENN
Ever since George Michael cast the likes of Cindy Crawford and Christy Turlington in the video for "Freedom '90," supermodels have become synonymous with the pop world. But some Vogue cover stars have wanted to be more than just the glamorous eye candy in a music promo. Here's a look at five who have temporarily swapped the catwalk for the recording studio.
The latest supermodel to try her hand at the whole singing malarkey, former Victoria's Secret Angel Gisele Bundchen made headlines last week after recording a cover of The Kinks' '60s Britpop classic "All Day & All Of The Night" for a new H&M ad campaign. While Shakira's status as Latin America's premier pop diva is unlikely to come under threat, the 33-year-old's enchanting Brazilian accent and seductive husky tones at least ensure that you won't have to turn down the volume every time the advert appears on TV.
Featuring production work from the likes of Youth (Paul McCartney, The Verve), Bomb The Bass' Tim Simenon and Irish singer-songwriter Gavin Friday, Naomi Campbell's 1994 venture into the music world, Babywoman, certainly arrived with some impressive credentials. But the serial cell phone thrower still failed to tempt anyone to buy it and after spending just a solitary week inside the UK Top 75, it's rarely been heard of since. However, ignore Campbell's wafer-thin vocals and the brooding tribal pop of "Love & Tears" is actually not that bad at all.
Something of an indie-rock fangirl, the face of 1990s heroin chic has performed on tracks by Primal Scream ("Some Velvet Morning") and The Lemonheads ("You're A Dirty Robot"), played tambourine on Oasis' Be Here Now and co-wrote four tracks with crack-addled one-time boyfriend Pete Doherty for Babyshambles' sophomore disc, Shotter's Nation. But she's yet to produce anything which suggests she should give up the day job.
Disillusioned with the fashion industry, one of the newly-crowned supermodels decided to follow in the footsteps of Moss by hooking up with a British guitar band in the shape of Five O'Clock Heroes for "Who," the first single from their 2008 second album, Speak Your Language. Deyn's girlish tones aren't without their charms, but unfortunately the track itself was the kind of plodding indie-rock you'd expect to hear on a wet Wednesday night down the local pub.
Another supermodel who tested her vocal skills for the purposes of a TV advert, Heidi Klum was given the job of tackling Bee Gees' disco classic "Stayin' Alive" whilst parading around in a pair of Jordache jeans earlier this year. Her karaoke-style rendition suggests that little of former husband Seal's musical talent rubbed off on her.
More
The Craziest Music Feuds
Song Titles That Blow Their Own Trumpets
Are You There Fans? It's Me Azealia
---
From Our Partners:


40 Most Revealing See-Through Red Carpet Looks (Vh1)


15 Stars Share Secrets of their Sex Lives (Celebuzz)