EXCLUSIVE: 'Survivor' Favorite Malcolm Freberg On Blogging, Memoirs and Life In Reality TV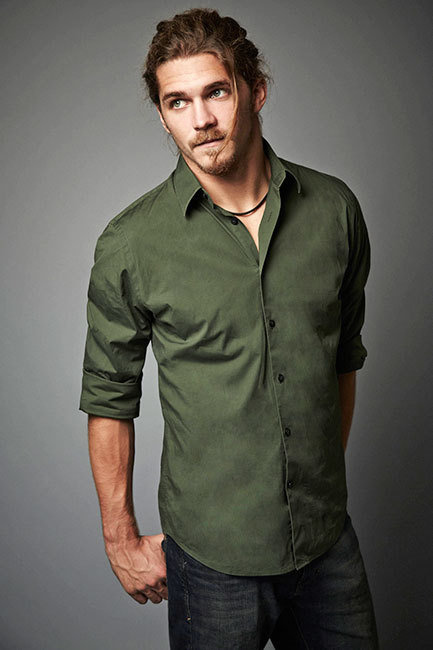 Diana Ragland
After competing in 2 back-to-back seasons on Survivor, one of America's favorite contestants sits down to tell us about life, love, bar-tending, ninja turtles, his memoir and surviving… Conversation with a possible super hero. 
How did Survivor come about?
I was trained from a young age to be on Survivor. My parents would regularly leave me alone in the woods for weeks at a time – ostensibly to train me in self-reliance, but as I grew older I began to suspect it was so they could watch their M.A.S.H. marathons uninterrupted.
In addition, actually getting casted for the show was never a doubt. Several international corporations had a vested interest in my future, and thus hired teams of experts working round the clock to create the perfect audition video for the show. Nothing was left to chance.
You weren't the Sole Survivor, but you did survive 2 back-to-back seasons. Tell us a little about the experience.
It's actually not what most people think. The starving is real – I lost 40 pounds between two seasons. The bugs are awful – I looked like I had the Chicken Pox. The weather will destroy you – by the end of the rain my hands were more wrinkled than Betty White's left @ss cheek.
Are you watching the current season of Survivor?  
What's been happening is, whenever I like a couple, one of the pair gets kicked off the show. I liked Candice and John before the game started, and Candice was one of the first kicked off. Tyson and his girlfriend were awesome and I rooted for them once, but then she got eliminated minutes later. I'm like a voodoo shaman – I curse people. I've stopped supporting anyone out of guilt.
We hear you're writing a memoir.
I finally put the finishing touches on it. On a personal level, the most difficult part has been coming to terms with putting some of these anecdotes out for the world to see. All of it is told lightheartedly and the book is a ruckus (self-call), but the stories are from the year after I graduated college. 
What I realized was that, with this book as in life, the very best thing I could be is genuine. If you put yourself out there and completely own it, people respond positively and are drawn to you. Overcoming that fear of judgment was a trial, but the writing, the stories, and the book as a whole are better for it, and I'm proud about how it's turned out.
What is the motivation behind your blog: Whiskey and Ninja Turtles?
We live in a confusing world. I'm here to explain some of the important aspects that may be throwing the average American/human/entity for a loop. Some concepts – things like Disney songs, Whole Foods, infant erections, Super Mario Bros., and the Pope's scent to name a few – need to be broken down for the public. I'm providing a service.
Take us through a day as Malcolm Freberg.
I wake up each morning and do somewhere between three and four hundred pushups. My manservant then gives me a morning brief while assisting me in the process of preparing for my typically arduous day — running one of the largest corporations on the planet.
To be honest, it's at night when I really come alive. I don my black animalistic disguise, hop in my weaponized vehicle, and take to the streets. I spend the evening hours stopping criminals and thwarting the mob wherever I find them. My relationship with the police is strained – some support me, some think I'm a dangerous vigilante who's taking the law into his own hands. But if I don't clean up the streets of Gotham, who will?
Your previous profession was bartending. What's your favorite drink?
Most any drink is acceptable so long as it fits in with the atmosphere and time of day. Except Jager. Never Jager. Men, please note this is not an acceptable beverage choice after high school.
Also, to anybody who visits a bar ever: if the bar is busy, DO NOT ASK FOR A MOJITO OR MINT JULEP. These take forever and your bartender will hate you for making his day miserable. If you must have one of these laborious cocktails, don't be surprised if there's an added garnish of mucus mixed in.