Susan Luckey, 'Music Man' and 'Carousel' Star, Dies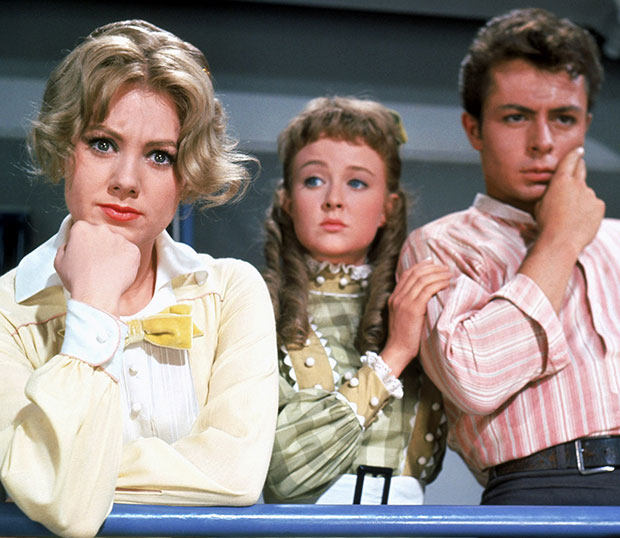 The 1950s and 60s afforded Hollywood a golden era of musical cinema, cranking out pristine classics like The Music Man and Carousel. Sadly, a veteran of this period of the movie industry has reportedly passed away: Susan Luckey, former film, stage, and television actress from this age of genre benchmarks. TMZ states that the 74-year-old Luckey, born Suzanne Douglas, died on Wednesday, Nov. 29, of "old age." The news was revealed to TMZ by Luckey's daughter, Shayna Reynolds.
Luckey began her film career in 1954 with an uncredited role in Deep in My Heart (a comedic biography of composer Sigmund Romberg). Following this, Luckey earned supporting parts in the likes of Carousel, Teenage Rebel, The Music Man, and Step Out of Your Mind, which marked her final big screen performance in '66. She is pictured above (center) as Zaneeta Shinn, daughter of Paul Ford's mayor character in The Music Man. Luckey also took roles in the TV movie Annie Get Your Gun and a televised Broadway production of Peter Pan. Additionally, she contributed guest appearances to series like The George Burns and Gracie Allen Show and Telephone Time.
The former actress married actor Larry Douglas (Girls Are For Loving) in 1964. He passed away in 1996.
[Photo Credit: Everett Collection]
More:
Hugh Hefner Re-Engaged to 'Runaway Bride' Crystal Harris
Jenelle Evans, 'Teen Mom 2' Star, Gets Married
'Bachelorette' Couple Ashley Hebert and J.P. Rosenbaum: Married!

Harry Styles Spotted Outside Taylor Swift's Hotel Room The Morning After Their Date Night (PHOTOS)

Fall Bikini Bodies: The Good, The Great, The OMG (GALLERY)