'Sword & the Sorcerer' Actor Richard Lynch Dies, Age 76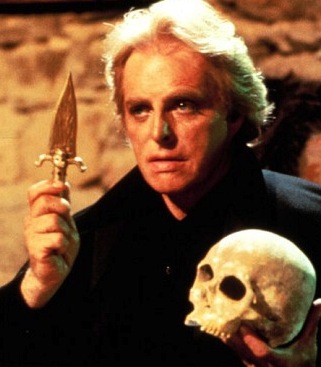 Earning a reputation as a prolific actor doesn't necessary demand a performer to become a leading man. A great character actor can carve a career from supporting roles, becoming just as recognizable as any A-Lister, albeit as a chameleon rather than a larger-than-life persona. That's the mark actor Richard Lynch, best known for villainous appearances in countless TV shows and movies, leaves on Hollywood. According to Deadline, the actor passed away yesterday at the age of 76.
Lynch's distinct look made him the perfect bad guy and Hollywood utilized him in genre television and film for over 40 years. The actor consistently found work after breaking out in the 1973 Gene Hackman film Scarecrow. He won a Saturn Award for Best Supporting Actor in The Sword and the Sorcerer, appeared in both the 1976 and 1980 incarnations of Battlestar Galactica, and was courted by Rob Zombie to appear in the musician-turned-director's 2007 remake of Halloween and the upcoming Lords of Salem. Roles on The A-Team, Six Feet Under, and Star Trek: The Next Generation turned Lynch into a TV-buff favorite.
Lynch is survived by his wife Lily and his brother Barry Lynch, who acted alongside his brother in 1987's Nightforce and 1997's Total Force. At the time of his death, Lynch had over 150 credits to his name.
More:
Bryan Singer's 'Battlestar Galactica' Movie Deal Lands 'Anonymous' Writer
SpaceX: 'Star Trek' Star James Doohan's Ashes Head to Space
Rob Zombie Directing 'The Lords of Salem' in Spring
[Photo Credit: Hemdale Film]