Tanning Mom Before The Tan: Her Hollywood Lookalikes
Patricia Krentcil — most widely known for fifteen minutes as "Tanning Mom"— received a lot of negative attention back in April after she was accused of taking her 5-year-old daughter into a tanning bed with her. But who is this mysterious woman? Other than being able to safely assume that she watches a little too much of Jersey Shore, we actually know very little about her and her pre-tanning life…until now that is.

[Image: Splash News]
It turns out that Krentcil used to be an aspiring model. Several photos have recently surfaced of the "Not-As-Tan Mom" that were taken at the time she was applying to a modeling agency around 15 years ago. And not only was Krentcil a lot less crispy back then, but she was actually quite striking. 
So being the entertainment junkies that we are, this got us thinking about who would mostly likely play Tanning Mom if a movie was ever to be released about her. And given all the press this woman has been able to garner over the past few months, it seems completely possible. So listen up Lifetime higher-ups — here's how the casting should go:

Chelsea Handler
If there's one woman who would be ballsy enough to take on such a controversial role, it would be Handler. This chick doesn't mind going against the grain in every aspect of life, so she'd be a perfect fit for the part. For something like this, you can never have too much sass.

Kate Gosselin
Perhaps it takes a horrible mother to understand a horrible mother? Gosselin could definitely put Tanning Mom's character through her paces eight times over. Plus, it's not like she's completely unfamiliar with the whole tanning process herself. She's not that extreme, of course, but I'm sure she'd be able to carry out a pretty convincing portrayal.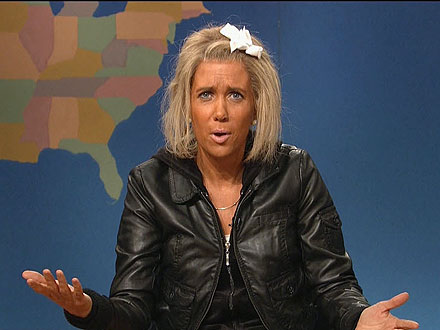 Kristen Wiig
Aside from the fact that Kristen Wiig is simply hilarious, she's also amazingly talented. Her Saturday Night Live impressions are uncanny in their similarities. She's even played Tanning Mom in one of her skits, so Wiig already has a pre-casting advantage over the others. Not to mention the fact that she'd be a huge draw for the film's demographic. Let's make this happen, folks!
[Image: NBC]

Pamela Anderson
Alright, for this one we'd need to jump in our magical time machine and journey back in time for her Baywatch Babe days, but you have to admit Anderson would be a great pick for the role. Their assets appear to be quite similar.

January Jones
Blonde: check. Incredible Physique: check. Attitude: check, check. Though she'd probably find a role like this below her, Jones has many of the physical qualities directors would look for in Krentcil's lookalike. Plus, if anyone knows anything about being a terrible mother, it's Betty Draper.

Lindsay Lohan
Over the past few weeks, Lohan has proven that despite her troubled past she's actually quite the acting chameleon. Her transformation into the iconic Elizabeth Taylor for the Lifetime biopic Liz & Dick, demonstrates just how versatile she can be. Plus, the network probably already has her on contract, so it'd be an easy transition.
More:
Lindsay Lohan and Grant Bowler Still Look a Lot Like Liz & Dick — PICS