Target Rejects Frank Ocean's Album: The Real Reason Comes Out?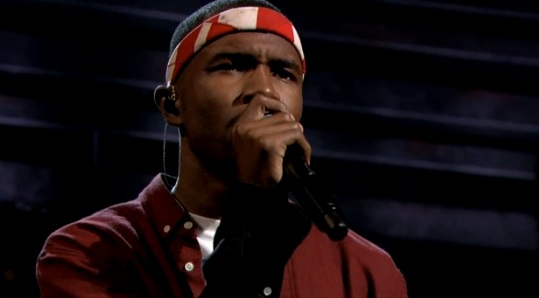 UPDATE: GLAAD, the Gay and Lesbian Alliance Against Defamation, says Target would be remiss to not carry Frank Ocean's Channel Orange. "Whatever the reason Target has decided not to carry Channel Orange, it seems like a very bad business decision to not support Frank Ocean right now," GLAAD says in an exclusive statement to Hollywood.com. "Frank has received incredible support from fans and industry leaders after telling his story, and Target is missing an opportunity to help him share his story with its customers, through his music."
EARLIER: The rapper Frank Ocean has skyrocketed in notability ever since he announced that he was gay on July 4. The 24-year-old music artist, whose debut studio album Channel Orange launched on iTunes on Tuesday, and set to release on July 17, has received an encouraging wave of praise for his courage to come out, including some supportive words from superstar Beyoncé. However, a bit of controversy is amounting now, as the retail corporation Target has opted not to carry Channel Orange upon its release.
Target released a statement to MTV, citing Channel Orange's early release on iTunes as the reason for the store's choice not to stock the CD. The statement reads, "[Target's] selection of new releases is dedicated to physical CDs rather than titles that are released digitally in advance of the street date." However, the timing of this ordeal does provoke some, including Ocean's manager Christian Clancy, to suspect that the artist's newly publicized homosexuality might have influenced the superstore's decision.
Clancy tweeted the following message, which he has since deleted: "Target has refused to carry Frank's album because of iTunes exclusive. Interesting since they also donate to non-equal rights organizations." A later tweet seems to recant his standpoint on the corporation's motivations: "I apologize for my comments about Target," he wrote. "They are not carrying Franks album because it went digital first. Not for ANY other reason."
Target also goes on to counter accusations that the decision had anything to do with Ocean's announcement that he was gay. "The claims made about Target's decision to not carry the Frank Ocean album are absolutely false," statement says. "Target supports inclusivity and diversity in every aspect of our business. Our assortment decisions are based on a number of factors, including guest demand."
It is interesting to note that Target does indeed carry albums released by openly gay artists, and that it has, in the past, stocked CDs previously released on iTunes — specifically, Jay-Z and Kanye West's Watch the Throne. Hollywood.com has reached out to Target for comment on its decision.
(Additional reporting by Lindsey DiMattina)
[Photo Credit: NBC]
More:
Frank Ocean Comes Out, Makes Waves With Tumblr Letter
Frank Ocean's Stunning Performance on 'Late Night with Jimmy Fallon' — WATCH
Frank Ocean's Album Drops a Week Early, Beyoncé Voices Her Praises