Taylor Swift and Fun. Announced in First Wave of Grammy Performers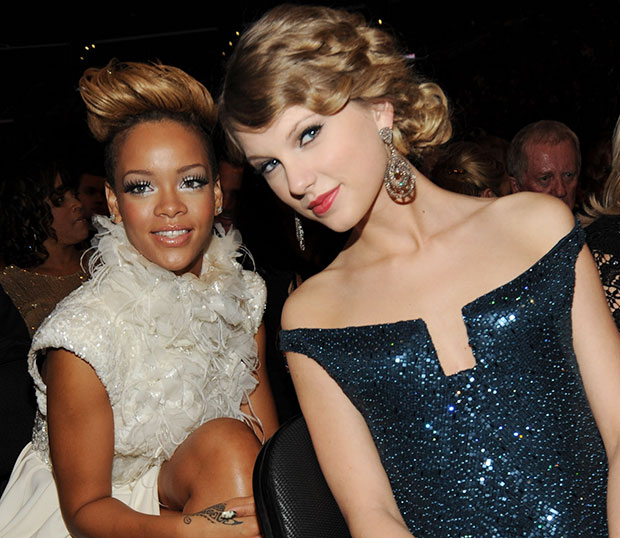 Music's biggest night wouldn't be complete without a roster of performances by the who's-who of the music industry, and the first wave of the 55th Grammy Awards performers have just been announced. Current Grammy nominees The Black Keys, fun., Mumford & Sons, Rihanna, and Taylor Swift will take the stage Sunday, February 10, at the Staples Center in Los Angeles, and two-time Grammy winner LL Cool J will return as host of the telecast.
This will be the first time The Black Keys and fun. will perform at the Grammys, while Mumford & Sons, Rihanna and Swift are veterans of the awards show. More performers, presenters, and special segments will be announced soon.
While each artist/group is worthy of taking the Grammys' stage, we have our own ideas about what we'd like to see them perform. The Grammys is not a place to fall flat — performance-wise, vocal-wise, or just literally on your face — so heed our advice!
Taylor Swift
We're loving the edgier tone you are taking in your music and music videos… time to bring that to the stage! We get that your comfort zone is singing sweetly while strumming on your guitar but as your style grows and matures, so should your performances. PS: If you do end up winning, please leave your "Oh my goodness, I'm so shocked, you guys!" face at home. Please.
Rihanna
Whatever you do, do not bring back your weird, karaoke bar visualizer background. That was so strange we still don't know what to make of it. Also, put on some real clothes this time. That oversized, lumpy jacket did not do you any favors. And please, oh Lord please, leave Chris Brown at home. Although we know asking is probably futile…
The Black Keys
We know you're already preparing your new album, and we would love to hear a sample of it in your performance. Anything, even just a tiny tease, would be amazing.
fun.
"Some Nights" would be a safe, easy choice to perform, but, frankly, you played it to death in 2012. New material, s'il vous plait! 
Mumford & Sons
You really have your 2011 Grammy performance to thank for your current success, seeing as that was the night everyone learned who you were. Now you've just got to keep the momentum by putting on another rockin' show. Just don't f**k it up. 
The 55th annual Grammy Awards will be on Sunday, February 10 from 8 – 11:30 p.m. ET/PT on CBS.
[Photo Credit: Kevin Mazur/WireImage]
Follow Sydney on Twitter @SydneyBucksbaum
More:
Who Runs The World: Beyonce to Perform at Obama's Inauguration
Monopoly to Replace One Token: Save the Thimble!
Beyonce to Be Godmother to Kim & Kanye's Baby? 8 Other Famous Godparents

Guess the Celebrity Bikini Body! (Celebuzz)

30 Hottest Lingerie Scenes from the Past 30 Years (Celebuzz)