Taylor Swift and Harry Styles' NYE Kiss: Is He Just Not That Into Her?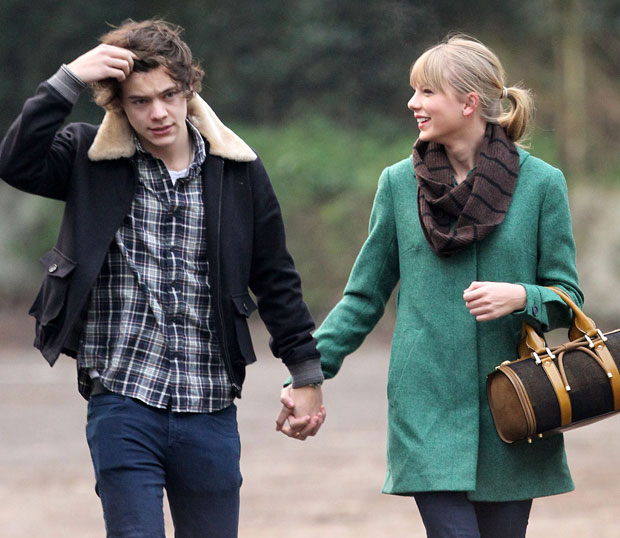 Saying Taylor Swift has built a career on writing good breakup songs is like saying Michael Phelps is a good swimmer. It's just a fact. As the singing superstar bounces from one public relationship to the other, it's easy to speculate about how hurt each beau will be when he's the subject of a No. 1 hit spawned from their inevitable breakup.
Swift's latest target? Singer Harry Styles, the 18-year-old cute one from Britain's X Factor-spawned boy band sensation One Direction and object of adoration by teens worldwide. But while a legion of One Directioners are busy worrying about their precious Harry being chewed up and spit out by that maneating, chart-topping harlot, judging from the paparazzi-snapped photo of the kiss the new couple shared in Times Square on New Year's Eve, maybe Swift is the one who should worry.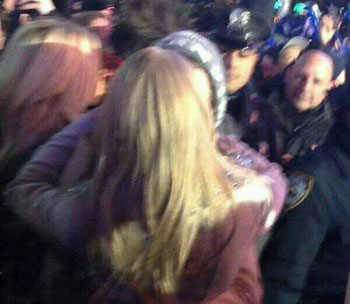 Why? Check out the fan-shot video of their intimate moment below and see for yourself: While Swift goes in for the kill, Styles merely goes with it. Is he as invested in the relationship as she is? Here are three reasons Hollywood.com is concerned for poor Taylor's fragile heart.
1. The Breakaway
The couple's cue to kiss is the stroke of midnight, but check out who breaks away first: Styles.
2. The Wandering Eye
Not only does Harry pull back first, but instead of nuzzling his girlfriend's neck and enjoying her embrace, he seems more interested in checking out the NYE hullabaloo going on around him. To be fair, it was pretty insane out there, but this is a guy who has Beatlemania-style screaming accompany him whenever he steps out in public. He's probably used to throngs of people surrounding him.
3. The Pat on the Back
Nothing says "friend zone" more than a cheerful pat on the back. Obviously they're close — it's definitely a sign of affection — but maybe not as close as Swift wants to be.
What do you think? Should Taylor or Harry be more worried about the fate of their relationship?
Follow Jean on Twitter @hijean
[PHOTO CREDIT: FameFlynet UK/FameFlynet Pictures, Twitter]
More:
An Old Person's Guide to One Direction Singer Harry Styles
One Direction Turns Down Condom Deal: 5 Other Sexy Celebrity Products
One Direction Fans Attack Married Woman Over Harry Styles Affair Rumors

'American Idol' Winner Hospitalized After Head-On Car Crash

20 Hottest Bikini Bodies of 2012: Katy Perry, Miley and More!