Taylor Swift is a Sad Disney Princess… For Real — PIC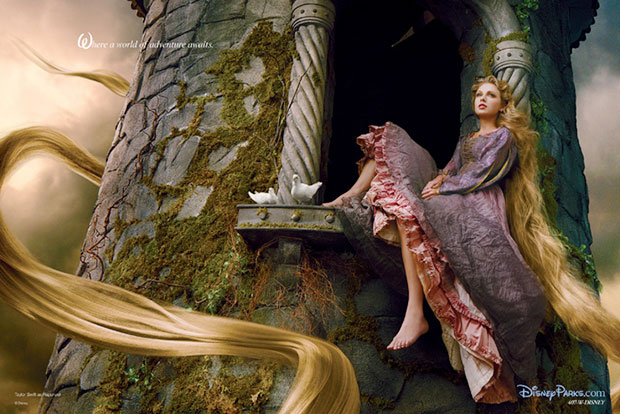 It appears Taylor Swift's acting range is limited to two emotions: surprised face and sad face. We're all familiar with her faux-shock (or genuine shock, who knows/cares) when she wins all the awards, but let's dive into her less common sad face, exhibited when she's lonely on a boat after being dumped by boy band members and in this new ad for Disney Parks.
Swift is the latest subject of the Disney Dream Portrait campaign, in which celebs pose as famous Disney characters while photographer Annie Leibovitz snaps away. Swift's princess of choice? Rapunzel. That means long hair extensions and a forlorn look.
In a behind-the-scenes video of the shoot, we learn that Rapunzel's sad music playlist consists of M83, Capital Cities, and Swift's pals The Civil Wars. We also learn that Swift is not immediately receptive to directing, as she doesn't even move a facial muscle while Leibovitz tries to give her some acting directions. She's gorgeous, but why is she sitting so still? She could at least try to emote past "sullen teen."
Check out the photo shoot video below and Swift's ad above. Does sad Rapunzel make you want to visit Disney World?
Follow Jean on Twitter@hijean
[Photo Credit: Disney Parks]
More:
Jason Segel, Russell Brand, WIll Ferrell, and More Get Disneyfied — PICS
Sad Taylor Swift on a Boat Gets Some Company Post-Harry Styles Split — PHOTO
Taylor Swift And Harry Styles' NYE Kiss: Is He Just Not That Into Her?

Child Stars: Where Are They Now? (Celebuzz)