Taylor Swift Loves Antiquing More Than Sex?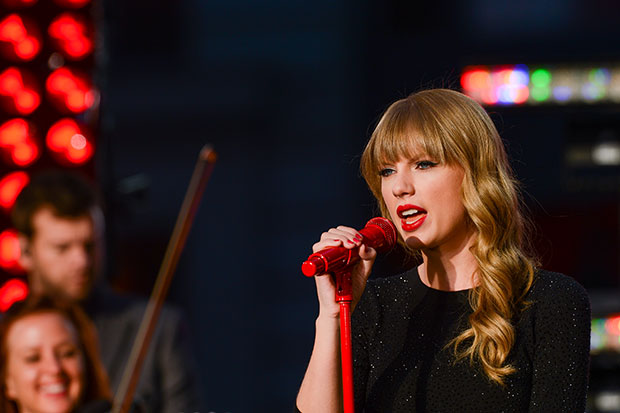 Taylor Swift doesn't get sad, she gets even. Well, she gets sad and then she gets even. In the (quite literal) wake of her split with One Direction heartthrob/floppy puppy Harry Styles, Swift is heading back to the recording studio where, we imagine, she will sing and cry and eat ice cream sandwiches until her grief turns the red, red color of anger and out pops another hit single. Swift announced her return on Thursday evening with the ominous tweet, "Back in the studio. Uh oh…" The "uh oh" can only mean one thing — she's got a song about Harry in the works.
Taylor's sudden bout of of inspiration comes hot on the heels of rather inflammatory reports made by Radar Online that Swift got the boot because Styles considered her "asexual." According to Radar, "a source close to" Harry says, "Harry found Taylor a little sexually uninterested … While it was clear she obviously had a thing for Harry, Taylor didn't want to put out as often as he would've liked. Harry is a young boy, with ladies throwing themselves at him and has had a string of relationships with older women. It's no secret he's sexually active and is enjoying his fame at the moment. But Taylor just wasn't up for it as much as he is. They were sexually incompatible."
Now, Radar is of course a completely trustworthy source and should always be taken at face value and repeated as though it's the gospel truth — but there's one nugget here that we hope with all our heart and soul is real. Radar's source tells them, "Harry wants to go out to fancy bars and clubs and enjoy being young – but Taylor's more of a homebody and all she would talk about was antiques!"
Antiques! Can't you just picture it now? Taylor wakes up, puts on her favorite headband and loafers, hops on her vintage bicycle — Meredith is of course safely stowed in the basket — and pedals to the nearest flea market. A sign that reads "I stop for antiques" hangs from her handlebars, and Taylor is true to her word. But while Taylor dreams of one day visiting (or even appearing on, imagine!) the Antiques Roadshow, Harry dreams of strippers. Sadly, the china and hand-painted dolls all got to be too much for the young lad and so, it's back to the drawing board for Swift. And by drawing board we mean recording studio. For Taylor, revenge is a dish best served in 4/4 time.
Follow Abbey Stone on Twitter @abbeystone
[Photo Credit: Ray Tamarra/Getty Images]
More:
Taylor Swift and Fun. Announced in First Wave of Grammy Performers
Sad Taylor Swift On A Boat Gets Some Company Post-Harry Styles Split — PHOTO
Taylor Swift and Harry Styles' NYE Kiss: Is He Just Not That Into Her?

25 Risqué Miley Cyrus Stage Outfits (Celebuzz)