Taylor Swift Rumor Mill: Jake Gyllenhaal and Harry Styles Are Her Latest Victims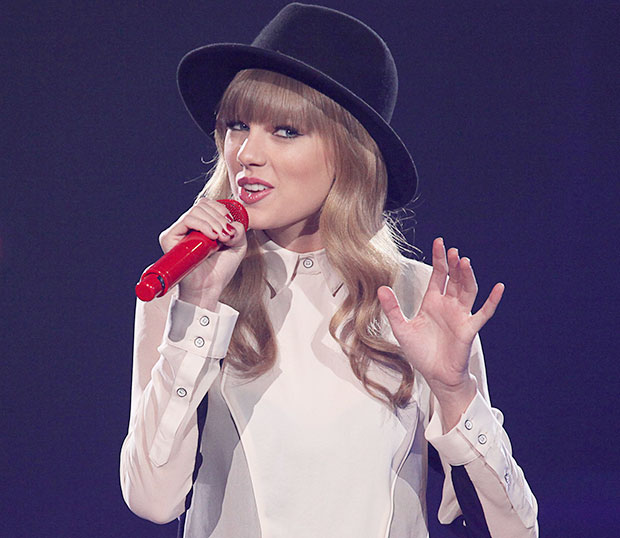 Whoa Nelly, hold the phone. Us Weekly has confirmed that Taylor Swift's song "All Too Well" is about ex-boyfriend Jake Gyllenhaal. Holy moly, Swift has written a song about an ex. And not just any ex — a specific ex who is also a famous person. You guys, I don't think anything like this has ever happened before.
So, basically, an "insider" totally told Us that the song is about Gyllenhaal. And, like, remember that time Swift spent Thanksgiving at Jake's sister's home in Brooklyn? And she went for a walk with Jakey and a zillion pics were taken and in every one Tay was wearing a blue striped scarf? Well, ohmigod, the song's lyrics, like, totally talk about all of that. The song goes, "I walked through the door with you / The air was cold but something 'bout it felt like home somehow and I / Left my scarf there at your sister's house / And you still got it in your drawer even now." IT'S TOTES THE EXACT SAME THING! But, like, does anyone else think it's way stalkerish of Jake to still have Taylor's scarf? Because it is.
Of all the songs Swifty has written about ex-boyfriends, this may be one that is most obviously about a specific someone. Well, either this one or "Back to December," which was obviously about a certain sad werewolf. Or maybe the most obvious was "Dear John," which had the guy's name right in the title. Oh wait, I'm totally lying — the most obvious song is "Forever and Always," which clearly is about Joe Jonas' infamous 27-second breakup phone call.
Are you starting to see a pattern here? Yes? Oh thank God, I was getting tired of writing like a space cadet.
PHOTOS: Craziest Celeb Makeovers of All Time
Taylor Swift, your game is getting old. Your refusal to declare outright the subjects of your songs, or to even verify the manboys you are clearly dating, is stale. It's not cute and coy; it's annoying. Your stubborn denial of the truth doesn't create the shroud of mystery you're so transparently after, but rather a stale cloud of gossip that just hangs in the air, heavy with tired rumors and dull speculation. Heck, your unlucky love life is so boring, 
The Soup
has already made a super cut of it. If the reason you refuse to be upfront with the media about your relationships is, as you claim, to keep your private life private, than I say to you, "Pshaw!" Because I will bet you 567 cat sweaters that if you just say, "Yeah, I'm dating Zac Efron," or whomever, the questions will stop. Or, if they don't stop, they will change to a simple, "How is Zac?" and then you just say, "Fine," and move on. Ask Miley Cyrus.
But instead, you spend entire daytime talk show interviews dancing and prancing around the answer. You
literally play games
where your love life is the object. Your desperation for attention is sad, and your "Who, me?" facade is wearing thin. Taylor, today may be your lucky day. With rumors of a new relationship, this time with One Direction heartthrob
Harry Styles
, swirling like a gale force wind, now is the perfect opportunity to come clean from the start. Girl,
Mario Lopez
has already told the world that Styles came to the
X Factor
rehearsals to watch you, and 
E!
is reporting that the young lad "threw [you] over his shoulder." The secret is out, so just admit it. And two years from now, when you release your next album, just send out a press release at the same time that says the song "Floppy Haired Brit Who Broke My Heart" is about Harry Styles. It will save us all a lot of time and energy.
Follow Abbey Stone on Twitter @abbeystone
[Photo Credit: Bridow/WENN]
More:
AMA Performances from Best to Worst: Did Taylor Swift Steal the Show?
Taylor Swift and Miley Cyrus Both Hire Porn Stars for Videos. Who's Next?
Let's Play 'Taylor Swift or 1950s Etiquette Manual?'
From Our Partners:

American Music Awards 2012: The Complete Red Carpet Arrivals (PHOTOS)
(Celebuzz)

Justin Bieber, Selena Gomez Seen Together at American Music Awards After-Party
(Celebuzz)