Taylor Swift's Dream of Becoming American Royalty is Dead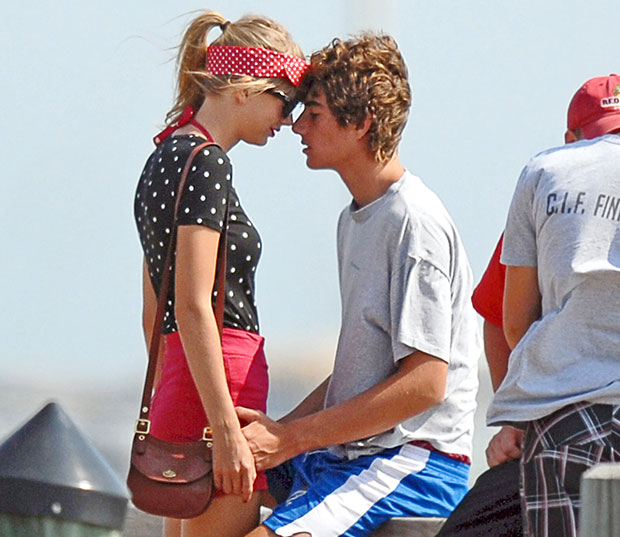 Poor Taylor Swift, all she wanted in the world was to be the American equivalent of Princess Diana. Oh yes, and true love. So color us shocked when we read the news on Us today that Swifty and her dear prince, Conor Kennedy have split after several months of blissful, all-American romance. When the two got together, it seemed the next logical step that our dearest Pop-Country Princess would join the unofficial American royal family. Unfortunately, sometimes a summer romance must come to an end—just as the leaves of Hyannis Port turn from green to oaky red and orange, and the spray from the waves bites cooly at your face.
No doubt the Kennedy family was wary of their grandson's new-money Nashville lass. How will it look in the papers? There's a standard to uphold when you are born with the Kennedy name; one that Taylor could never truly understand. Time for Conor to find a good girl from Choate Rosemary Hall, or Taft, or Miss Porter's, or Andover, his family will suggest. What about Ethel from down the street? She comes from a good family, they'll say. But he won't listen. When he's feeling especially rebellious next summer (trying to avoid running into Taylor after she bought that house down the block), he'll spend a few months at his cousin Ed's house in Branford, Connecticut—Kiki always made the best banana bread—and spend a lot of time in New Haven, browsing the aisles at Cutler's and dating girls from the Hopkins School or Hamden Hall. Dating girls from a day school will no doubt ruffle the family feathers.
As for Taylor, she'll mostly likely spend her nights in Nashville, drinking that wine with the cupcake on the label, staring out her window—wistfully wondering about what could've been. Her fairytale that almost was. She'll hum tunes to the happy songs she'd finally, at long last, have a chance to write. But now, they'll feel bitter on her tongue. All the happy melodies she once loved will sound dull and plodding. She thought she'd been through her last break-up. She thought it was finally going to make sense. Twenty-two. She always imagined she'd be engaged by 22—why had her life veered so off course? She laughed at the sentiment of her song "Today Was a Fairytale" because she had been so naïve back then. She really had no idea. The Kennedy fairytale was so much sweeter. She'll sigh one of those heavy sighs you usually only see on Downton Abbey anymore and flop down on the couch. She'll try to get over Conor, kissing a few of her bandmates' friends from time to time. When she runs into him at the corner store in Hyannis Port with his new summer fling next year, she'll laugh to herself and she'll know: they are never, ever, ever getting back together.
(Or maybe they won't care at all because they're just a pair of young kids who had a summer fling and now it's over because this is how dating works! Either option is a possibility, really.)
[Photo Credit: WENN]
Follow Alicia on Twitter @alicialutes
More:
Late Night Last Night: Taylor Swift Will Now Write a Song about Letterman
Pop Culture Debate: Who Is Taylor Swift's 'We Are Never Ever Getting Back Together" About?
Taylor Swift and the Significance of 'Red'

Kardashians Share Scary-Cute Childhood Halloween Pics
(Celebuzz)